Wednesday, September 24, 2014 (Day 1)
– Fly from Houston to Amsterdam at 3pm
Thursday, September 25, 2014 (Day 2)
– Fly from Amsterdam to Stuttgart 9:30a – 10:30a with 2 hour layover in AMS
– Arrive at Hotel am Schlossgarten about 11am
– Walk around the pedestrian area in Stuttgart
– Lunch, shop for SIM card
– Visit Porsche Museum
– Dinner at Brenner
– Asleep by 8pm
Usually our travel days, the first 2 days, are fairly uneventful, but this time we actually did some sightseeing on day 2! Mostly, I am surprised that we were able to stay awake all day on the second day after barely any sleep on the plane ride over. We made it all the way to 8pm!!
Our flight from Houston to Amsterdam was uneventful, on time, and easy. Mostly, we both thought it was strange to be traveling together from Houston. Typically, I would bringing all the luggage and meeting Mark in Marseille, but this time he was here to come with me and help with the luggage. I slept for a few hours on the flight, and Mark almost didn't sleep at all. I finished a book and we both watched the second Hunger Games movie.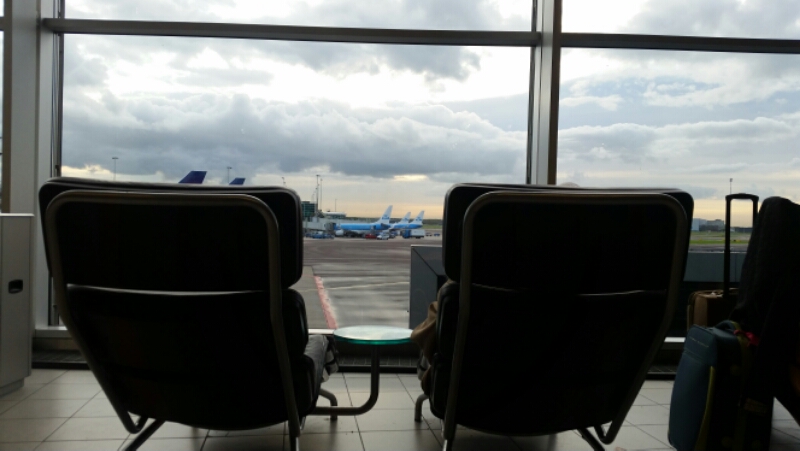 In Amsterdam, we had about 2 hours layover, so there was plenty of time to get through passport control and then spend about an hour using the free wifi before getting on our next flight. By this point, I was feeling a bit like a walking zombie, so I couldn't wait to get on the plane and fall asleep. We had a tailwind, so the plane ride from Amsterdam to Stuttgart was only about an hour and we arrived early. The luggage arrived rather fast as well. Porsche gave us a couple taxi vouchers, so we felt very uppity taking a cab ride to our hotel instead of hoofing it on the train. =)
The Schlossgarten hotel was directly across the street from the Stuttgart train station, but it certainly as easier with a direct door-to-door cab ride. We felt lucky that they had a room ready and cleaned this early, too. It was only just after 11am and we were already in our room. I could have fallen right to sleep after our showers, but my stomach was talking to me. I was very tempted just to eat a granola bar and say goodnight to the world, but instead we got ready to walk around Stuttgart. Just outside the hotel is the main pedestrian area and it was full of shops. We found some take-away sandwiches and then headed to a local mobile phone store to get prepaid SIM cards for our stay in Germany.
We were absolutely amazed to learn that the Samsung Galaxy S5s that we purchased from Verizon actually came unlocked. (This is without rooting or anything. Unlocked from a US carrier!? How is that possible?) Not only were they unlocked, but they took SIM cards and worked with GSM! So, we purchased some prepaid cards and they worked! Woohoo. I am super excited to use my current phone as an international phone instead of the tiny out-of-date one I purchased a few years ago in Amsterdam.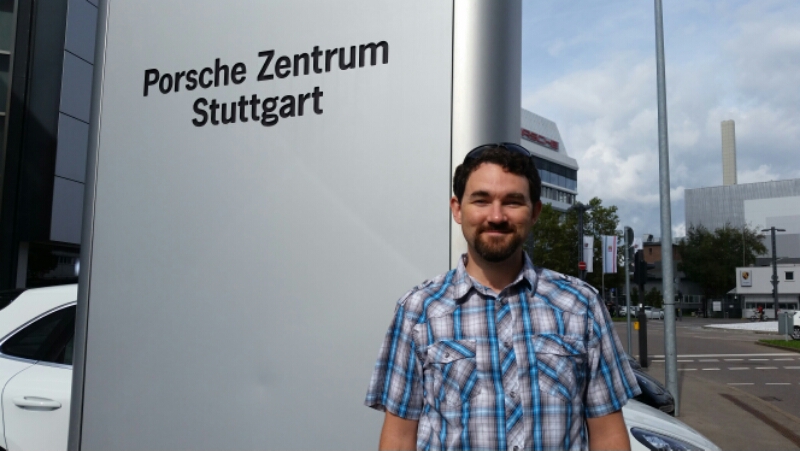 At this point, we didn't even go back to the hotel, instead we took the S-bahn trail over to the Porsche Museum. We had already warned them that we might visit a day early, so they would have our tickets waiting at the front desk. The S-bahn station was next door to the museum. First we had to take some photos next to Porsche signs, though, and then we went in. I'd say we toured the museum from about 2p – 5p, so about 3 hours. The museum tickets are included with our European Delivery. We got an audio guide to take us on the tour and learned tons of information about the history of Porsche's cars. There were many, many cars on display and multiple levels to visit. The museum also was an interesting piece of architecture the way all the inner stairs and ramps and levels worked. There were leading lines everywhere and it was very well lit to show off the cars. I took many photos on my phone.

I'll admit, that I nearly fell asleep on my feet several times, and had to sit down and half-doze a couple times. Mark managed to stay alert and awake the entire time! The top level also had a special exhibit of various concept cars throughout the years that had never been on display before. There were definitely a lot of Porsche cars all in this one building.
Outside the museum, there is a large covered area, and the roof is all mirrors. It was very interesting to look up and see the chopped images of the ground below.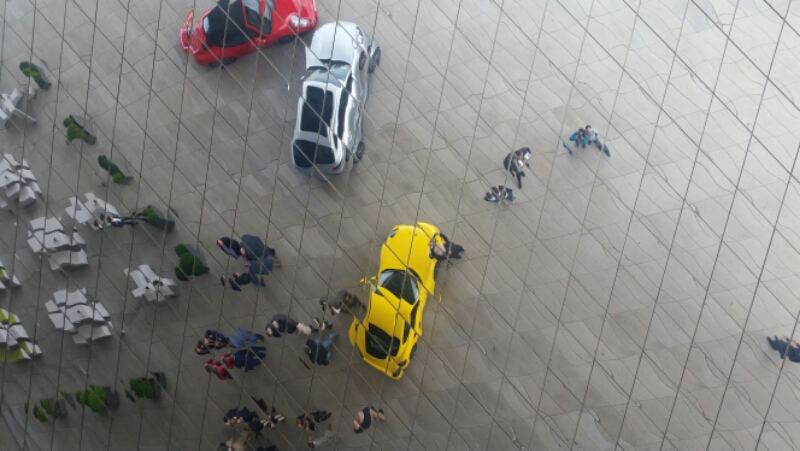 We walked around the Porsche area looking for where we might pick up our car tomorrow and then headed back to Stuttgart. Even though we knew it was a bit early for dinner (5:30p), we walked around the pedestrian area of Stuttgart looking for a place open early enough for dinner food. Luckily a bit of a long walk later, we found Brenner in a corner. The place was small, but the food was great. I had a tasty homemade BBQ burger that was messy enough to eat with a knife and fork. Mark had a pasta dish that was tasty as well. It was all we could do to stay awake through dinner and then walk back to the hotel. By the time we got back and did a few things, it was 8pm and we crashed hard into bed. The alarm was set for 5:45am the next morning, but we will get plenty of sleep tonight.
Overnight, I first woke up at about 9:30pm and was quite confused about what time it was. We both woke around midnight and then again at 2am, but for the most part, we managed to sleep all the way until 5:45a. Tomorrow we get the new car! We are stoked.