Sunday, September 29, 2013 (Day 19)
Itinerary:
weather:  70s and raining.  =(
– 8:30a wakeup and breakfast
– 10a start watching tv coverage of UCI biking World Championships
– 12:30p men's race comes by our hotel window
– 2p head out to get some lunch and gelato
– 5:30p rain finally stops, go for a walk
– 7:30 dinner at Il Latina
– final packing to head to the airport tomorrow!
Well, we've officially had our first day of pretty terrible weather today.  We woke up to a very cloudy sky outside.  Really, the only reason to wake up early instead of just sleeping in was because we had told our hotel, Florence Chic, that we were eating breakfast at 9a.  So, we got up in time for that.  The breakfast room had about 4 tables.  I think this hotel only has around 6 rooms anyway.  Breakfast was a bit sparse, but the food was good at least.  I didn't really expect much anyway.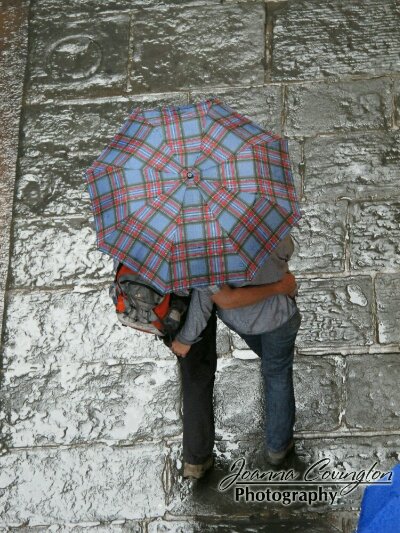 We were able to talk to our hosts about setting up a cab for the morning because we need to leave here at around 5am!  We also got our boarding passes printed out and such.  With our little chores done, we headed back to our room mostly to waste a little time before the 10am bike race coverage started.  I found the channel on tv with the race coverage, though of course the announcing was in Italian.  So, Mark was able to find a BBC feed on his laptop broadcasting the same race feed, but with English announcing. 
The elite men's road race today was from Lucca to Florence and covered 272 kilometers which they finished in about 7 hours.  This was the final event of the UCI World Championships and the winner today was crowned world champion for the next year.  The race will swing by right in front of our hotel window again and with all the rain coming today, we are super excited to be able to wait inside our dry room with internet and tv coverage until the riders come by here.  Then we can watch from our open window. 
The tv coverage had the poor cyclists biking through rain since the start of the race, though the rain didn't really start here at our room until about 11:30a or so.  I had fun taking some photos of people walking by with umbrellas while I killed time.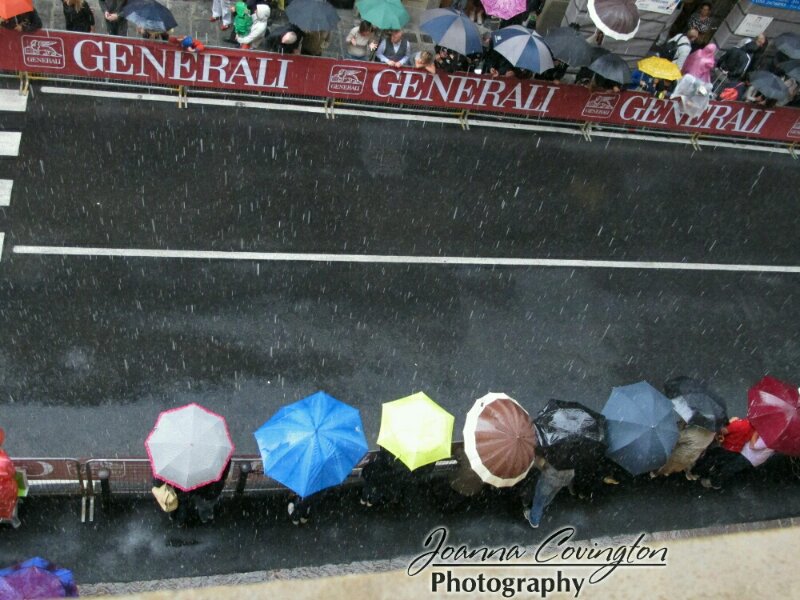 We were following the race on tv, so we knew exactly where the cyclists were, and then we went to the window when the official cars and motorcycles started coming by.  Then we heard the official tv helicopter over head and all of a sudden the wind picked up and the rain came down heavier and the cyclists turned the corner onto our street!!  It was very exciting to see them come through and we tried our best to grab some photos and videos as they flew by us in rather dark weather conditions.  It was so cool to see most of the Great Britain Team on the front of the peleton as they came through and we could definitely see Mark Cavendish.  However, Froome was wearing his cape (jacket) so we couldn't see exactly which one he was.  Also, for some reason Wiggins was off the back when they came through, so I'm not sure if I grabbed a photo of him.  Still, so very cool to see the racers come through live!!
It was very short lived, though.  We saw the lead group, then the peleton 8 minutes later, and then it was all over.  And it was raining.  It looks so miserable out there in all that rain.  Our initial plan for the day was after the cyclists came by our window to go out to the circuit course (they lap a 16.6km course 10 times) to see a few laps.  However, we really dont want to go in all this rain.  First we have to walk several km to get to the area, then we'd have to stand around in the cold and rainy weather and we are getting on a plane tomorrow.  I don't really want to deal with a bunch of wet clothes and shoes.  And, we realized that we aren't going to have so much fun standing around getting wet.  So, sadly, we decided that we would not go out to the race circuit.  =(  We are still a bit sad that we didn't go, but we are glad we didn't have to stand in the rain.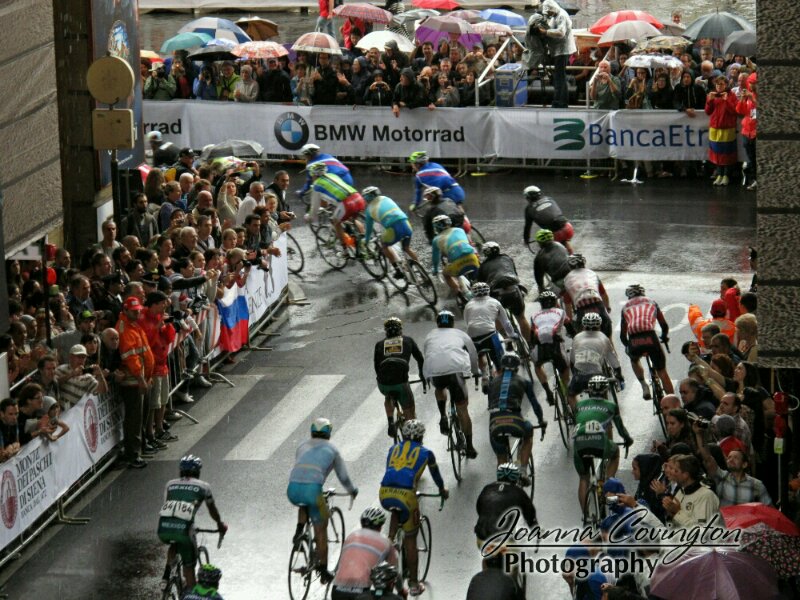 We then stayed in the room hoping for the rain to relax enough for us to go out and grab some lunch, but it was still over an hour until that happened.  Then we went out with our rain jackets (but no rain pants, I left those at home) and grabbed some paninis and then some gelato for dessert.  =)  We were highly amused to see all the opportunistic street vendors walking around selling umbrellas and ponchos.  I've never in my life been offered so many umbrellas to buy as I have today!  Good idea on their part though!!
After gelato, the rain picked up and we headed back to the hotel room to watch the rest of the race which finally ended around 5p or so.  It's amazing that the cyclists bike non-stop in race conditions for 7 hours straight and in the rain too!  Out of 200 riders that started todays race, only about 40-60 ended up actually even finishing the race.  So many people dropped out due to crashes, injury, or just getting so far behind and not feeling the need to finish in the rain.
Amazingly, for the last 45 minutes of racing, the sun came out and we even saw blue skies from our hotel room.  It was too bad we weren't close enough to dash out to the race course real quick.  oh well.  Soon after the race finished, we decided to finally head out and just randomly walk around before our dinner reservations for 7:30p.  We wandered to the Ponte Vecchio and up and down the river.  We took photos of the totally awesome reflections all over the river and saw some lightning go off far away in the background.  The cloud cover was back and we walked around some of the city as well.  We walked into one church to check out the interior and when we came back out it started raining again!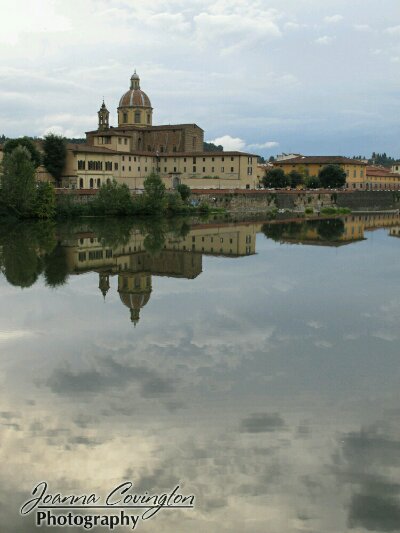 Well….that's not something we were prepared for.  We were hoping for no rain tonight.  We dashed under an awning and then tried to make it to our dinner location dashing in and out of awnings and walking as close to the buildings as possible, as many had a very narrow dry area right next to the building from the roof so far up high.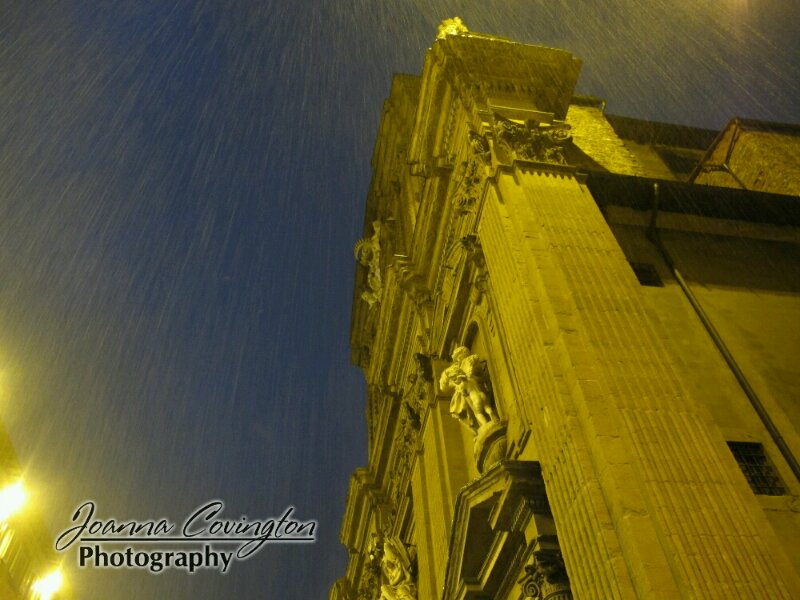 I was thinking….where are all those guys selling umbrellas, b/c now we need one!  And then a couple blocks later, they appeared!  But now we were only 3 blocks from our destination, so it didn't make much sense to buy an umbrella now.  We were offered many, many umbrellas for that last 3 blocks though. 
And now we reached the restaurant, Il Latina and there was a HUGE crowd of people all with umbrellas outside the door.  We couldn't tell what was going on here.  Were the doors to the restaurant open?  We have reservations.  Was this a waiting line?  Were people with reservations getting through?  Who knows.  We made our way over, and I started ducking under umbrellas and made my way to the front where a poor server was pretty much holding people at bay and only letting in one party at a time.  And all the parties getting in were huge, like more than 12 people even!  Everyone was just shoving forward and tried to push in like this was a Black Friday sale and there were only 10 tvs priced to move.  It was crazy!  The server kept saying there was room for us all and to just be patient.  With only one party at a time, each party had to pull in their own group, and each person had to shove their way through the crowd and it was all quite hilarious. 
I'm sure this huge crowd and push of people was mostly because it was raining and we all wanted to get inside.  But perhaps this happens a lot.  Finally, I mentioned I had a reservation, and the server asked me, "Which one is yours?"  Basically asking me which person in the crowd outside was with my party, and I found Mark's head and motioned to him.  The server helped me pull Mark into the restaurant and out of the crowd, and then we started being shuffled to our table from server to server.  I felt a little like a person on an assembly line as went through.
As it turns out the restaurant was HUGE and we passed through many rooms of tables before we got to the area where we were seated in a courtyard outside, though it was covered at least.  We had a pair of Aussies next to us with whom we chatted with while we waited to figure out how dinner was going to be ordered.  It turned out that there was no actual menu, and they just started bringing you food unless you specifically asked for less food.  So, without knowing this, we ended up with about 5 appetizer plates in front of us that we didn't want.
Every table was getting the same thing and the servers were like parts in a machine getting everyone served and we had to grab one to tell them we just wanted our beef florentine and we didn't need 5 appetizers and 3 pastas, and all this food.  So, that was settled and soon our huge steak came out.  Mmmm, Team Meat had a wonderful meeting with this huge piece of steak.  It was very yummy and we thoroughly enjoyed our steak.  Dessert was a little odd since the only options seemed to be ice cream with chocolate or ice cream with strawberries.  While both are good, not really what I was hoping for for my last Italian dessert.  But, oh well.  It was good food and good fun and we had people to chat with.
The dinner was way too long as usual and by the time we were back in the room and packed up, it was already midnight.  Tomorrow we need to wake up at 4am to get a taxi to the airport and get on our early series of flights from Florence to Paris to Houston.  It has been a fabulous vacation, but we are ready to go home to our own stuff, and of course a washing machine.