Sunday, September 22, 2013 (Day 12)
Biking Day 5 Itinerary:
Bike from Montepulciano to Cortona
weather: sunny, 75-80 degrees, windy
– 8:30a wake up, pack and breakfast
– 10:00a departure from Hotel Albergo Il Marzocco
– 12p stop for lunch supplies in Castiglion del Lago, reached Lake Trasimeno
– 210meter climb up to Cortona, but easy and consistent grade
– 4p arrive at Hotel Italia
– 7:30 – 9:30p dinner at Trattoria La Grotta
Biking Stats:
Total Distance: 52 km = 32.3 miles
Max Speed: 43.3 kph = 26.9 mph
Moving Time:  3hours 39minutes
Map:

And it's another beautiful day outside in Tuscany!  We woke up to sunny, clear skies outside and we are excited to get back on the bike after a rest day yesterday.  Today should be a slightly flatter day as well.  The general elevation map will have us going down, down, down, out of Montepulciano, and then saying mostly flat until we get to our climb up, up, up to Cortona.  Knowing that we have less rolling hills today, we actually decided to take one of the extension bike routes.  We usually have a short, medium, and long route to choose from each morning, and we've always been sticking with the shorter, easier routes.  Today we'll go with the medium route mostly because it will take us around a lake trail.  The lake trail is labeled as a single-track and double-track bike route versus the asphalt roads, so we'll see when we get there what it'll actually be like. 
We had the breakfast in the Albergo Il Marzocco and it was pretty descent.  They offered to cook us eggs, so we took them up on scrambled eggs from the kitchen for the extra protein.  Of course, this delayed our breakfast a bit, so we were out later than we thought we'd be.  The Albergo Il Marzocco gets a pretty good review from us except for the bathroom.  We were happy with the wifi, happy with the location, and happy with the breakfast.  We just really didn't like the bathroom.  In fact, for our showers last night, the cold water knob didn't even work, so only hot, hot water came out of the tap.
We departed the hotel around 10a after getting our luggage down to reception on time.  So far everything has been going amazingly smoothly for our luggage transfers.  Our roller coaster descent down off the Montepulciano hill/mountain was pretty thrilling and we were at the bottom very fast.  Now we are biking through vineyards again with absolutely gorgeous scenery all around us.  It is hard not to keep stopping to get photos, but we are getting better about staying on the bike and just noting the passing scenery.  We've got our biking legs now that we are on flatter roads, too.  However, the pavement is starting to be a bit more rough.  The past several days were on asphalt as smooth as glass.
We biked on to about noon when we hit a more major town of Castiglion del Lago right on the Lake Trasimeno.  Here, outside the city limits, we found a Coop superstore and went in to buy our lunch foods.  We usually buy bread, cheese, fruit, and something else and then make our own sandwiches with the Chianti salami that we are carrying around.  The salami that we bought in the Chianti area was all pre-sliced in small packages, and makes the perfect companion to cycle with.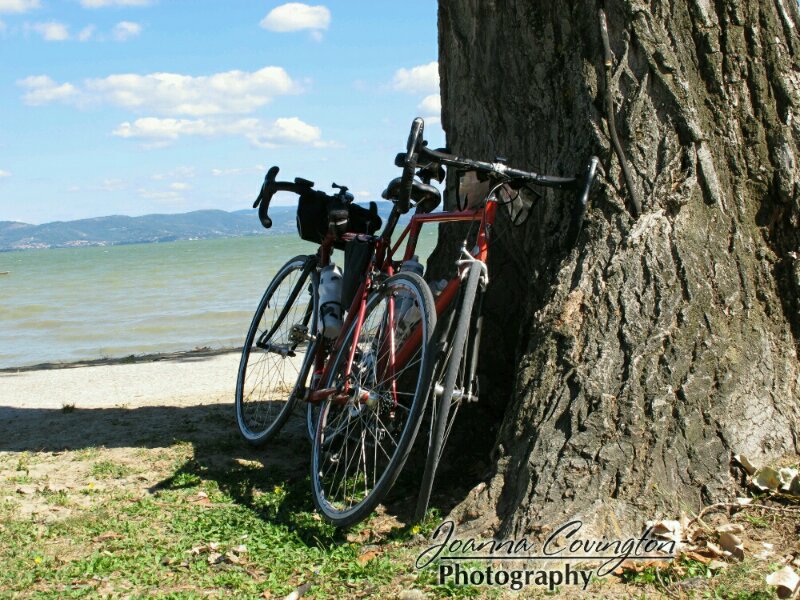 Passing through Castiglion del Lago was a bit confusing as the directions took us on some strange streets, one way the other direction, but we were able to find the lake.  Once we hit the lake shore, the wind really picked up!  It was very very windy coming off the lake, and we could smell the salt water.  I was surprised that this lake, so far inland, was a salt water lake, but definitely we could smell the salt.  We found a bench and laid out our lunch and had a lovely picnic on the lake.  With the wind, and the shade on the bench, it was almost feeling a bit chilly while we ate lunch.
We watched a group of people try to do some wind-surfing on the lake and also watched various other local tourist stream by as we ate lunch.  It was very pleasant to picnic on the lake.   
After lunch, we followed the directions which took us to a bike trail that went around the lake.  I was surprised that the trail wasn't actually on the shores of the lake the whole time, and most of the time we couldn't even see the lake.  However, with the wind off the lake, we were actually happy with this.  The single track and double track paths ended up being a packed dirt mountain-bike trail, but our road bikes did just fine on it.  The whole trail was completely flat which was nice. 
If this is what mountain biking is like, I could see trying that out someday.  We were most amused at our very detailed directions pointing out every single little wooden bridge that we crossed over or little house that we passed.  There was a decent sized group of cyclists on hybrids out in front of us for some of the ride.  Without the lake right there, the wind went away and it was very pleasantly sunny out warming our backs.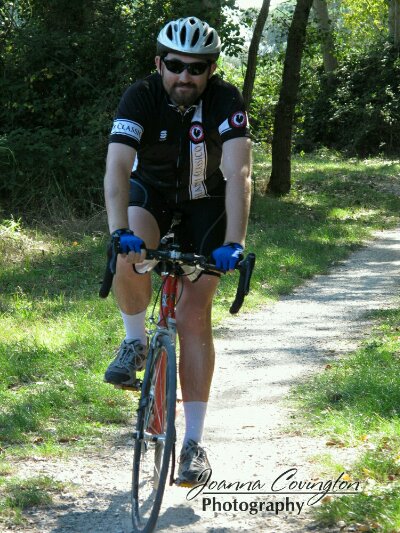 Lake Trasimeno is a very large lake and we probably didn't even bike 1/6th of the way around it.  After the lake, we didn't make too many stops and kept biking on to Cortona.  We had a long straight-away to get to Cortona, and I saw a good stopping point, so I called out to Mark where I wanted to stop and take a photo.  Well, the stop was at a little crest in the road and just when we stopped we saw a sea of drooping sunflowers in front of us creating the perfect foreground for the Cortona photo.  Was that well planned or what?
Then, we climbed up to Cortona which actually wasn't as bad as we were expecting.  The grade was actually fairly consistently flatter than all our previous climbs, so we were able to soldier on as we continued up the switchbacks to the top.  Just outside the gates to Cortona, we stopped at a large piazza to check out the wonderful views down to the valley below and we got some photos before finishing our ride at the Hotel Italia in the city center. 
Hotel Italia was in a perfect location right off the square in the city center.  When we arrived, we had the most helpful hotel host ever as he saw us as we parked outside the hotel and came running out to tell us where to park the bikes.  He even grabbed Mark's bike and took it on inside the hotel to a room they had inside for the bikes.  Our luggage was waiting for us and we found out that the hotel had an elevator!!!  Wow, what a treat to be able to take the large rolling suitcase up the elevator instead of using the two of us to carry it up 3 flights of stairs as we've been doing. 
The room was large and had a good sized bathroom.  The wifi signal was a bit weak in the room, and we were only allowed wifi for two of our devices for free which was slightly annoying.  But the room was comfortable, and we came in and did our normal arrival chores including unpacking, laundry and showers before we were able to go to dinner.
Dinner was at Trattoria La Grotta which was barely a 2 minute walk away from the hotel and the food was very good.  We loved our pasta dish, and the beef steak here was superb.  Dessert was of course delicious and we decided that if we needed to, we could certainly come back again tomorrow night.  Tomorrow will be a rest day here in Cortona.  While they did provide us with a loop trail from Cortona, it basically was the same route we took today, so there was no reason to do it again tomorrow.
As we walked in, we saw that first off, the city of Cortona was packed with people!!  There must have been some huge cruise ship tour group or something that came through because the place was packed.  We saw that there was a photo exhibition in town and we'll look forward to checking that out tomorrow.