Sunday, January 20, 2013 (Day 11)
Our hotel has a good breakfast in the mornings.  I especially liked their scrambled eggs and ham.  Something about it was just mighty tasty.  They had a decent number of options for breakfast and I'd rate them better than a typical hotel breakfast.  After breakfast we tried to ask the hotel reception our list of questions we came up with last night, however, it turns out that they were not too helpful.  We will have to find the tourist information desk in town maybe tomorrow to get our answers.  Since today is a Sunday, places have limited hours.
We opted to start our skiing vacation tomorrow, so today we bundled up to do some viewing and hiking on the Kitzsteinhorn Glacier.  Let me explain the geography of our area, real quick.  Zell Am See has a ski mountain, Schmitten right out of the town.  There is a free ski bus to a neighboring town, Kaprun, that also has a couple ski mountains at the base of this town.  The bus was only a 10 minute drive.  As it turns out, the free ski bus is only for skiers with a ski pass carrying skis or a snowboard, so the bus driver made us pay.  So much for the free transportation I had researched.  Kitzsteinhorn Glacier is out of Kaprun and the highest point in the area at 3000 meters. 
To get up to the top of the Glacier area, we had to take, I think, 3 gondolas up.  It was funny going on the gondolas with a bunch of skiers while we were just in our hiking boots.  We are able to get a cheaper hiking ski lift pass as well in order to get up without skis.  It turns out a decent number of people come up without skis.  In fact, lots of family members come up with strollers, or prams, and end up walking around on the snow pushing a stroller!  I was really surprised at this.
The views at the top were magnificent of course.  We are absolutely surrounded by the Alps mountains.  There was a viewing deck at 3029 meters and we were absolutely tickled to find a "photoshoot" up here.  I've never seen this yet before and it turns out these photo places were located at various points on all the surrounding mountains.  Basically, there was a public camera mounted high on the wall and instructions.  Press the button, count to 3 and smile at the camera.  The camera takes your photo and posts it online to their website.  And it did post to their website immediately!  We could use the data plans on our cell phones or the free wifi hotspot up here to go and view our photo and decide if we wanted to take more.  Technology is wonderful!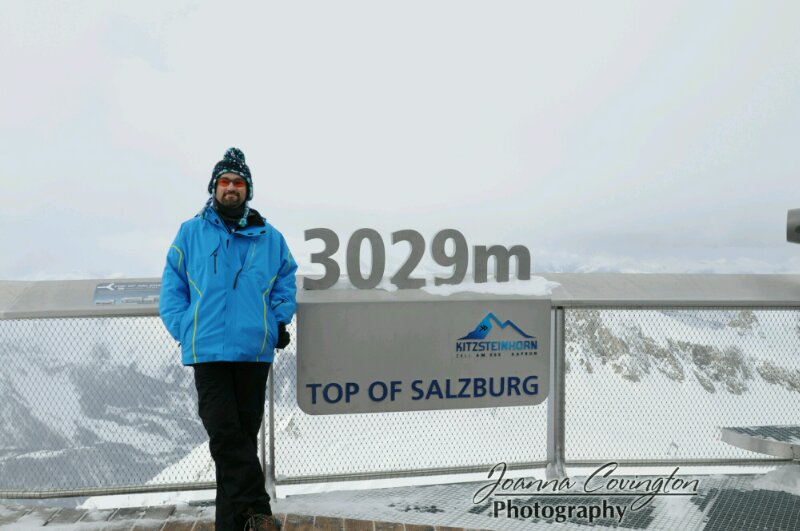 As we stood up here so high, we started to notice the intense and very cold winds coming over the tops of the mountains.  The winds blew a bunch of loose snow in our faces, too.  So, we headed back inside and found there was a "nature center."  I didn't expect much of this so-called nature-center, but once again I was happily surprised to find it to be quite interesting.  We actually walked in a tunnel through the mountain about 350 meters to another viewing platform.  Along the walk were various information points about the area, the mountain, the fauna, and the flora.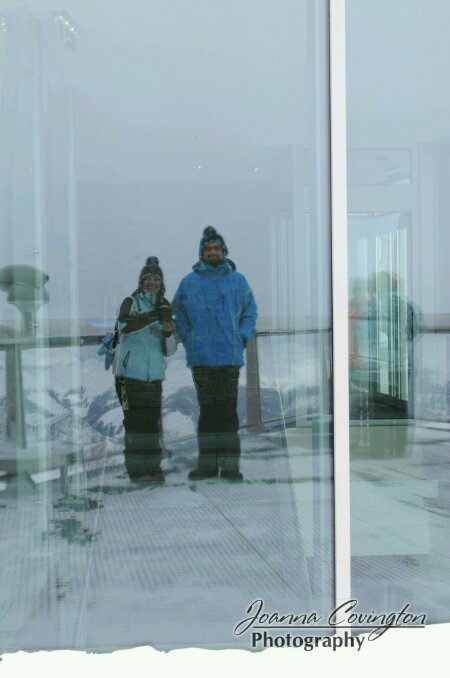 We walked out to the next viewing platform and nearly got blown away!!  Wow, is it remarkably windy up here.  And the wind blowing all the snow in our faces was not so comfortable.  Also, I was a little unhappy that I brought my DSLR camera outside as now it was covered in snow.  As soon as I bring it back inside it'll be covered in water.  The DSLR has been quite difficult to handle in the winter weather.  I'm so glad to also have my small point-and-shoot camera along. 
We managed to stand out here on this viewing platform for a couple minutes before it was just too windy and we had to go back inside.  Now we headed back down the mountain just one gondola ride until we were at the start of the hike to the Ice Camp.  I'd heard of the ice camp through the Lonely Planet.  Every year they build a set of igloos up here and in previous here's the build igloos that you could sleep in.  However this year there were no sleeping igloos and when we got there I was surprised that they ever had any.  We were basically in the middle of the ski slopes.  Instead the Ice Camp was an ice bar for skiers to come in and get a drink.  =)
The walk here was not long at all, however, in the snow and in hiking boots it took way longer than it should have to hike around the bend and up the hill to the ice camp.  Plus, now the wind was a mightly beast trying to blow us back down the mountain and it was nearly impossible to stand upright!  I'm so glad we weren't out here skiing!  The ice camp was another location with a photo shoot area, though these photos weren't as good.  It was still neat to visit the igloo bar and check it out.
By now it was nearing 4p and at 4p all the ski lifts close, so we had to head back down the mountain and back to town.  The winter days are so short here.  The sun is up around 8am and down around 4:30p or 5p. 
It was easy to catch a bus back to Zell Am See, though we were very disappointed to learn that the buses stop running at 7p.  So, there's no chance of leaving Zell Am See any night this week for other events in the area.  Anyway, we headed back to town and as we walked through the center of town, we found an Après-ski event going on.  Après-ski translates to after-ski, and it involves events starting around 4p or 5p when the skiers are off the mountain and back in town.  Tonight there was a German/Austrian small marching band playing oompah music.  We stayed for the music and then eventually went back to our room.
We had dinner out at a place chosen at random that wasn't so great, but then we had fun back at the hotel again playing video games.  Tomorrow we try our hand at skiing.  Last time we've been skiing was maybe 4 years ago…