Friday, January 18, 2013 (Day 9)
(Side note….I'm rather behind on my posts now.  Oops, life got in the way.  I hope to get back on schedule here soon.)
Today is our last full day in Vienna as we leave by train tomorrow to head towards the snow resort of Zell Am See.  So, we tried to get all our last visits in today.
As it turned out, spending a week in Vienna was a great way to see the city at a relaxed pace and there wasn't much more we needed to rush off to see today.  In fact, I started the day off by doing laundry to take advantage of the washing machine we have in our apartment.  I'll be back to doing laundry in the sink by hand soon enough. 
For lunch we found a Mexican restaurant in the area that got decent enough reviews online.  The food was pretty good for European Mexican food and Mark got his tex-mex fill in for the trip.  It's always funny to see a Mexican menu describing the food in German.  Mostly, it was nice to be able to speak and understand the Spanish from the owners.  =)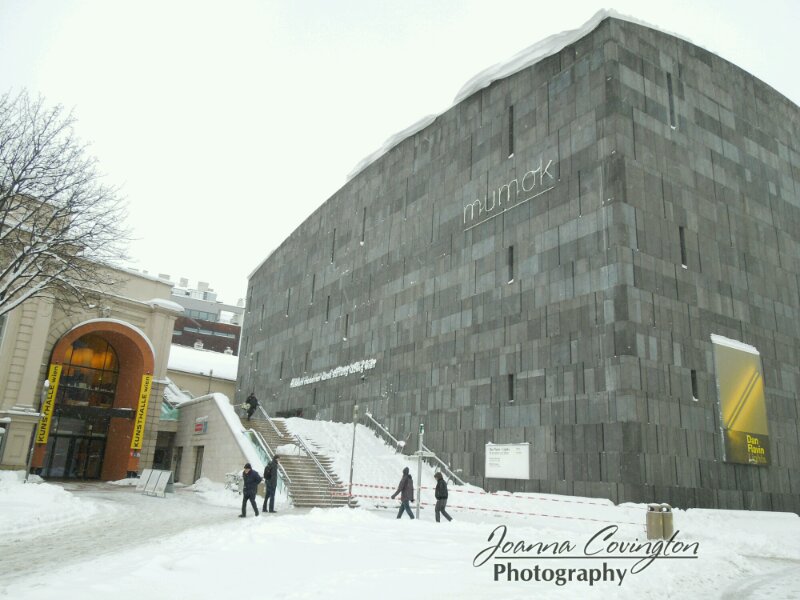 We started off our afternoon at the Mumok museum which is a very large and contemporary building in the MuseumQuartier.  It is a modern art museum and with the immense size of the building, we were expecting to spend several hours here.  However, this was not the case.  As it turned out, of the 6 floors, 3 were dedicated to one artist and his temporary exhibit here.  Dan Flavin's Lights art exhibit was created in the 1960s and the art consists of one or more fluorescent tubes in specific formations to make art.  The fluorescent tubes were of different lengths and colors, too.  There were only about 3 – 10 of his art exhibits per floor in a huge open white room, so you could nearly stand in one place and see all the art.  It was neat, but it was also quick to walk through.  The other 3 floors had other pieces of more modern art.  Modern art could be anything from a half-full glass of water in a display case, to a pile or rocks on the ground.  =)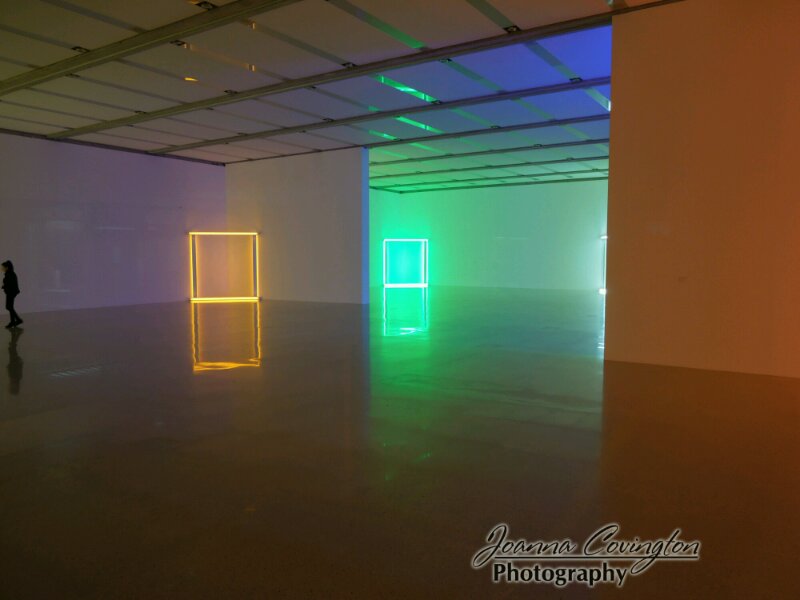 We left the Mumok and headed back to the Natural History Museum again hoping to catch the gift shop.  It was closed, though, so we continued on to the north, stopping to take photos as we walked along.  We walked by the  Hofburg Palace which we never visited or even really walked by.  It was really neat to see at night all lit up.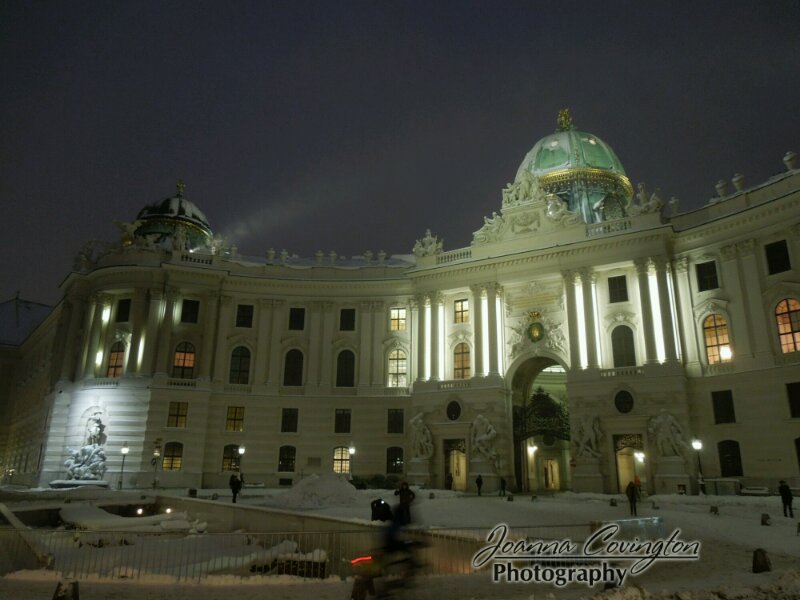 We ended up at a dessert cafe called Demel which had been recommended in many places for us.  Dessert cafe's seem to be popular.  We like to stop in and grab a hot chocolate and dessert like a sachertorte or something similar.  The dessert here did not disappoint.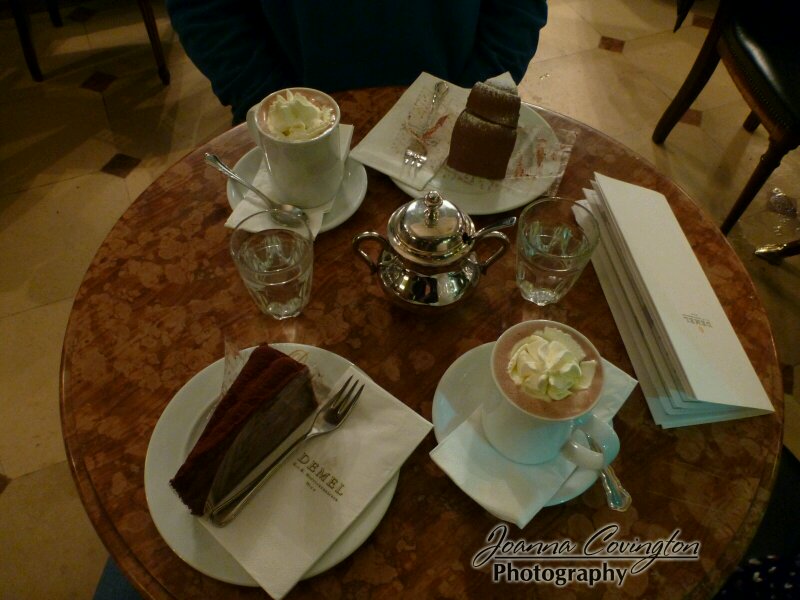 And now we were in a rush to take the train back to our apartment, hurry up and change, get back to the u-bahn and over to the Volksoper for the showing of Candide that we got tickets for earlier in the week.  I was super excited about this.  As I mentioned before, my high school marching band performed selections from Candide on the field my sophmore year and it was my favorite show.  I bought the CDs and fell in love with the music.  We really don't know what to expect tonight.  I'm hoping the music is in English so I can sing along, but we hear there were going to be humorous translations in German.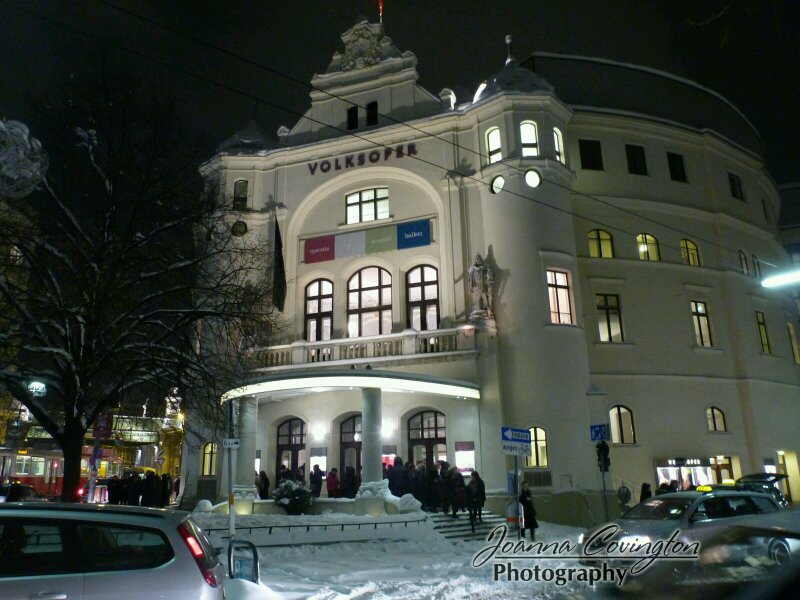 The Volksoper is not as fancy as the State Opera, and since we had regular tickets (non box seats) we had to check our coat in at the coat check.  In fact it was required to check coats.  I tried to carry my fleece to my seat and was scolded by the usher telling me I must check my coat.  Thankfully we did make it in time to check our coat and get to our seats.
Our seats aren't bad.  We are on the floor, in the back and on the aisle.  We could tell immediate from the state setup, that Candide was not going to be performed as a play.  Instead it was more of a concert.  There was a large choir section in the back of the stage.  In front of the choir was a full orchestra set up.  In front of that were about 8 chairs for the actors/main characters to sit and stand in place to sing.  In the center a narrator stood and narrated the story of Candide in German.  Everyone around us thought it was hilarious, but we were lost of course.  Then, when the time came, the music started up and the main characters did sing all the songs in English.  So at least I got to enjoy my favorite music even if we had absolutely no idea what was going on in the actual storyline.  Here's a youtube link someone else posted so you can see an example of what we were watching:  Candide
Tomorrow we head to Zell Am See, so after Candide we picked up our coats and headed home to pack up.  The coat check after the show was an absolute madhouse!  It was mostly amusing, though, and we took in in stride waiting in line for our coats.
Tomorrow – snow resort.