Wednesday, January 16, 2013 (Day 7)
Today we woke up early enough to get several things into our schedule for the day.  It's not snowing today, and we were so impressed with all the city workers and shop owners for clearing their sidewalks so it was easy to walk around.  I have to say, it is less pretty with all the snow scraped away from the streets and sidewalks and dirty slush all over the place.  There are also big piles of dirty snow where its been piled up and out of the way.
However, the skies are still gray and we have no need for any sunglasses.  We headed out to the Kunsthistorisches Museum to start out the day.  This is a big classical art museum and apparently the must-see museum in Vienna.  This is in the MuseumQuartier again and it's so need to see the quarter covered in snow when we were here before the snow came.  The first exhibit halls we entered housed the Egyptian artifacts.  We joke that by the time we actually get to Egypt, we'll have seen more Egyptian artifacts outside of the country.  Most of the Egyptian items in Europe are all stolen from Egypt, too.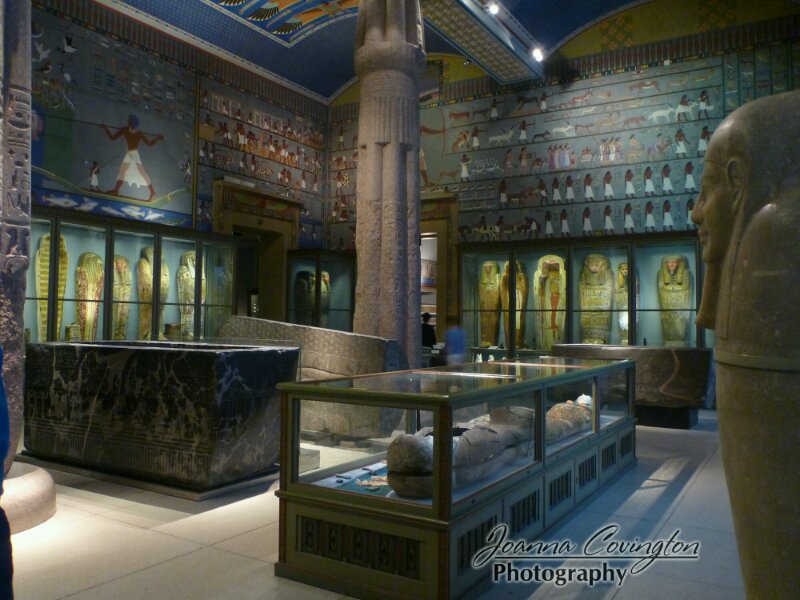 After the Egypt items, we moved on to a Greek and Roman art exhibit with many busts and sculptures and we might as well have been back in Italy at a museum there, or even Paris or Greece.  =)  I was interested to see they were showing many different replicas of sculptures that had been painted to what they thought was the original coloration.  It was very different seeing all the bright colors instead of the typical white stone statues.
There was also an entire floor dedicated to large classical art paintings.  More interesting, though, were the scattered artists throughout the museum with their easel and paints trying to replicate some of the works.  It was fun to watch them paint.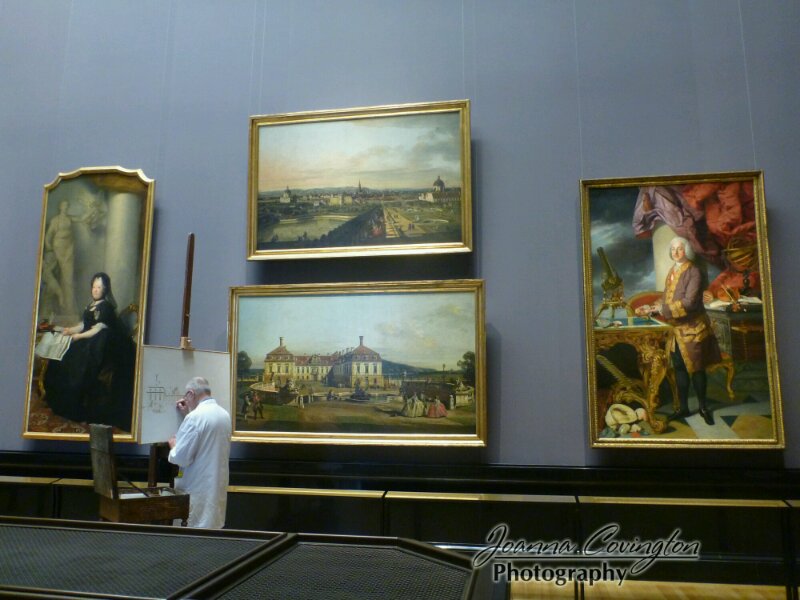 Finally, it was lunchtime and we walked nearby to the famous Naschmarkt.  I think I mentioned this before in one of my posts.  Nasch is German for snacking or munching on food.  I always thought the spelling was "nosh" when my mom would talk about a nasch.  Anyway, this market is several city blocks long and full of stalls with items sold varying from fish to produce to spices to souvenirs to olives, or anything else you might think of to sell in a food market.  It is kind of like Pike's Place Market in Seattle or , but also like a Hawker Center in Singapore.  Many big icon cities seem to have a market like this.  There are also several sit-down restaurants mixed in and we found an Asian spot to have lunch before we walked around the market.  Mark found some items to take back to Algeria with him and we both marveled at all the stall owners who were standing outside in the cold selling food.  Now that's dedication!
It did feel very cold today.  Maybe it was all the slushy walking around we did, or maybe it was windier.  In any case, we were a bit chilled through lunchtime.  We did more walking around the south part of the city, stopping to take photos here and there and eventually heading over to the Albertina Museum.  This museum has modern art and is open late on Wednesdays.  We found the tourist info and went inside to see if we were missing information, and then, still cold, we decided the next door cafe looked good.  We went into Cafe Mozart across the street from the Albertina and near the Opera House for some hot chocolate and cake.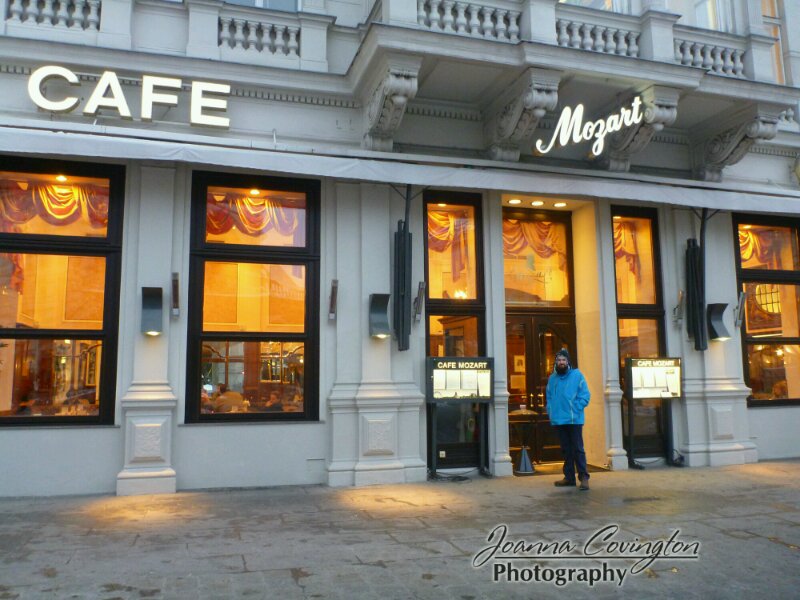 I had a genuine Viennese apfelstrudel while Mark had a wildberry cake.  Oh, and the hot chocolate here was amazingly tasty and the perfect temperature to warm your hands and sip at the same time.  Mmmm, it was hard to leave.  =)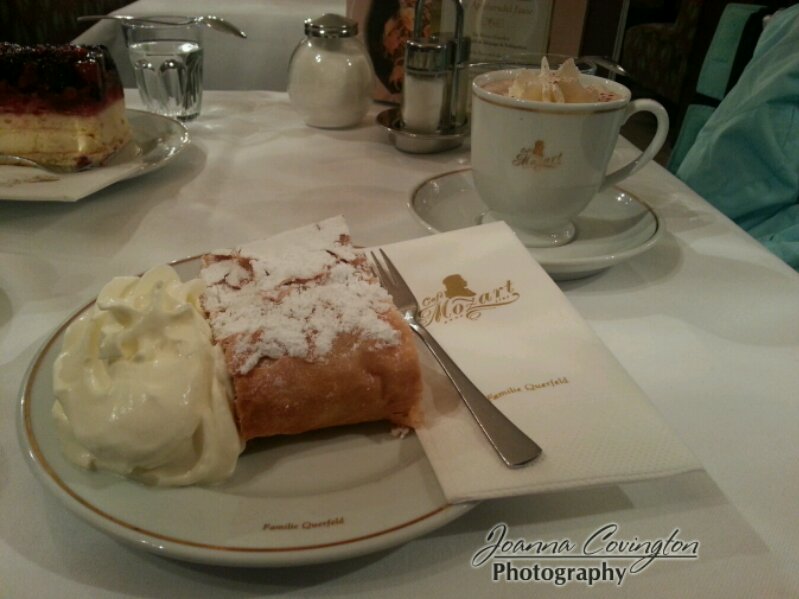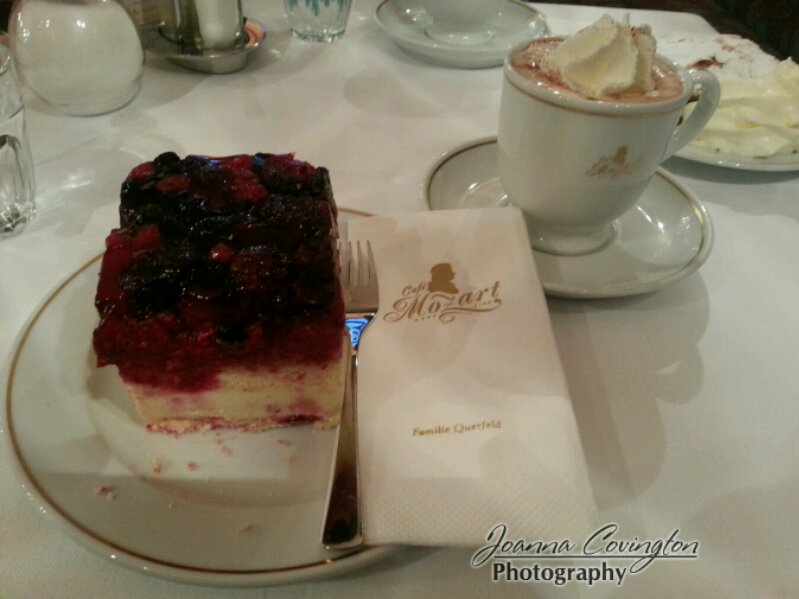 We dashed across to the Albertina Museum and were slightly disappointed to find out that some of their rooms were closed due to the weather conditions.  Basically, they didn't want us walking across their nice rugs with our wet, snowy boots.  So, really the museum was pretty short for us.  There was a current artist exhibit and then also an Impressionist group of rooms with works by Monet, Picasso, and the like.  We both enjoyed our visit, however.  I do always enjoy art from the Impressionist period. 
So, we didn't stay that long and decided that it would be a good evening to spend at home.  Actually it would have been a perfect evening to sit in front of a fire, but we settled for playing video games and when we got hungry we went out to that pizza place within walking distance that we ate at on Monday.  It was a great evening for us.