Tuesday, September 4, 2012 (Day 18)
Trin, then Riederalp
weather:  cloudy morning turning into a partly sunny day
Today we leave Trin behind.  Our Bed & Breakfast La Val has been very accommodating for sure, though we feel we've really done the Trin area now and we ready to move on.  After another lovely breakfast, we had plenty of time to pack our bags and make it down for a 10am train to Chur.  Our Glacier Express train doesn't leave until 11:30, but arriving in Chur at 10:20am gave us plenty of time to grab some groceries and walk from the bus station to the train station.
We boarded the Glacier Express in Chur at 11:27am for our trip to Brig.  The total route of the Glacier Express goes from St. Moritz/Davos all the way to Zermatt in 8 hours at a slow 20mph speed.  It's a scenic train, one of the 4 scenic trains in Switzerland.  It crosses 291 bridges, goes through 91 tunnels, and reaches an altitude of 6,670 feet.  We are only on the middle portion of the journey, though Rick Steves claims this portion to be the most scenic.  =)  I'm glad we only did a portion of this ride, because just our 4 hours on the train was starting to feel long.  I don't think we could have done the whole 8 hours in one sitting.
The Glacier Express is a panorama train so our windows are large, and extra windows are added at the top of the train.  It is indeed very scenic, and we can pretty much look where ever we need to.  Even in 2nd class, we get the pano windows.  Also, included on our train are headphones and an audio guide for use throughout the journey.  At various scenic points, a chime will sound indicating information is being played on the headphones.  A number will be displayed that corresponds to our route map so we can find where we are.  It's really pretty cool.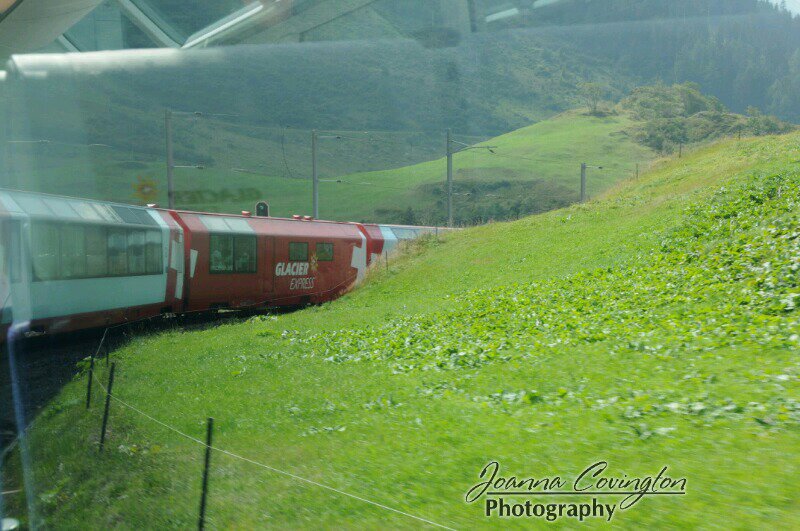 We've traveled the distance between Chur and Ilanz a couple times now and have already seen the Rheinschluht, but passing by it again, I'm still amazed at the limestone pinnacles along the gorge.  Each time we pass through it looks different and interesting.  Once we passed Ilanz, we started into a new part of Switzerland we haven't been before.  It took about an hour for us to travel along the Rhein River to Disentis where we had a top to change engines.  We are about to head up the mountain, so we need to change to a cogwheel engine so that we can climb at inclines greater than 10%.  Unfortunately, we can't remember what our ultimate incline will be, but I think it will be pretty steep.  After we made the journey, though, we decided it wasn't crazy steep after all.
Before we boarded our train, we stopped at the grocery store, Migros, at the Chur station to grab some take away sandwiches and snacks for a picnic lunch on the train.  There's not really any reason to pay for the high lunch prices on the train.  While eating, we were both very amused to see that my bag of chips came with a toy surprise inside.  =)  I don't think I've gotten a toy from a bag of chips before. 
Along the Rhein, we learned that there are several army bunkers at one specific spot that were loaded with explosives and ready to blow should they need to block the valley for any reason.  I was a little surprised to learn how many defensive measures were implemented over the course of Swiss history.
Some gems of information from our audio guides:
First off, when the audio comes on, the train becomes very quiet as everyone listens carefully to the headphones.
– 60% of Switzerland's power comes fro hydropower stations.  As of 2003, there are 509 hydropower stations.
– In 1707 the first tunnel in Switzerland was constructed.   There are more than 1000km of galleries and tunnels in Switzerland.
– Oberalp Pass is at 2,033 meters.  This area is all snowy in the winter, but the Glacier Express still runs.  Snow clearing machines on the tracks can clear 19 tons of snow a minute.
– St. Bernard dogs are famous for rescuing avalanche victims.  The poles that hold the electrical power for the trains are designed with specific breaking points to minimize damage in an avalanche.  And of course all the wooden fencing along the tops of mountains are there to keep the snow from building up too much as this could prevent avalanches. 
–  Being a tourist train and all, the announcer was quick to point out: "The train is waiting for an oncoming train.  As soon as it passes, we will continue." when we were stopped for a couple minutes along the track.  This is highly amusing to us since we've done this plenty of times on commuter trains now.  =)
– The Glacier Express is known as the slowest "express train."
–  The Swiss Guard requirements:  19-30 years of age, Catholic, be of sound reputation, and have a min height of 1.74 meters so that the picture of the guard appears uniform
– The Rhone River gets "corrected" every several tens of years in order to channel and control the river to prevent flooding of the valley.  This has only been done 3 times in recent history, the late 1800s, from 1930 – 1960, and the present.
Our Glacier Express trip ended in Brig at 3:40p.  The guidebooks said that Brig was really just a transit town and there wasn't much to do here, but I thought the main street looked interesting enough to walk.  We didn't have the time, but lots and lots of people were out and about.  We saw an interesting sculpture of what can only be described as a giant metal zipper.  =)  We spend our layover checking out the various brochures in the station and admiring the post cards.  Soon, our 10 minute train to Morel took off and before long we were boarding a cable car up to Riederalp.  We are staying in a mountain lodge on the outskirts of Riederalp, a car-free town.  When they say car-free, they mean that tourists can't bring their cars in, though the farmers in the area usually have a vehicle or two.  Riederalp is at elevation 1925 meters while Morel was down at 759 meters.  So, we had a bit of a climb in the cable car.  It was certainly easy enough to board with our luggage, too. 
We are excited to stay in a mountain town tonight.  Our Mountain Lodge – Riederfurka is a 30 minute uphill walk from the cable car station.  Luckily we were in no rush and we took it easy heading up.  It really wasn't so bad and we are glad that we came.  We arrived around 5:45p and were shown our room.  It's really very nice with a great view on a silent mountain top.  Downstairs dinner was served until 6:30p, so we had a delicious rosti and an area-speciality food called cholera, amusingly enough.  The cholera was kind of a pastry-casserole filled with tons of stuff including potato, apple, cheese, onions, vegetables, and probably some other things.  It was good enough.
Then we saw all the afternoon clouds cleared and we were going to have a nice sunset.  We went out for a nice evening hike with the camera to get some photos.  It was really nice just to walk around in the evening in the mountains with no one else around and know that we were within easy distance of our room.  We could even hear the farmers yodeling in their cattle for milking.  That was pretty awesome.  Usually, the cable-car-ways in other areas have closed at 5p, so have always had to be off the mountain by 5.  Actually, we could see the gondolas still working even as late as 8p, and I think they might run until 10p or so.
Finally, we are snuggled up in our little mountain lodge room, using the time to get some blogging done.