Sunday, September 2, 2012 (Day 16)
Trin
weather:  beautiful, gorgeous, sunny, highs in the 70s
Today is an exciting day because we are going white water rafting on the Rheine River with Swiss Raft.  We were able to book our tour just yesterday morning.  The meeting point was at 9:30am in Ilanz, so we had to leave our place by 8:15am or so to catch the busses and trains to the area.  Though it is not far away, Trin is not very well connected for fast connections.
Breakfast at the B&B La Val was the normal fare with bread, cheeses and meats, yogurts, and fruits.  Unlike some B&B's we've stayed at, they did not cook us a hot breakfast, but it wasn't really needed and we were happy with what we got.  The hosts were happy enough to wake up earlier than normal to serve us breakfast before we had to leave.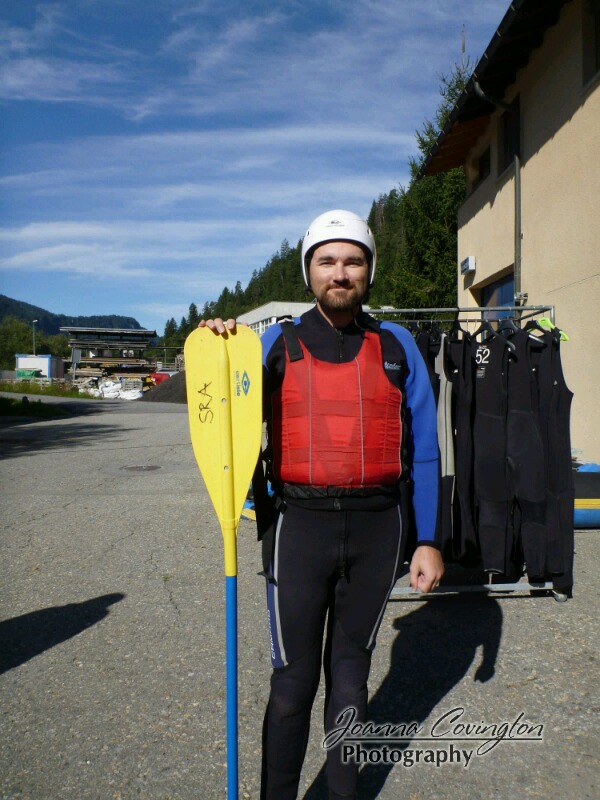 Swiss Raft was a great company to work with.  It was super easy to find them at the train station where they transferred us and 7 others to their river-side station.  We were outfitted in wetsuits, life jackets and helmets, given paddles, and taken to the river with a 10-person raft for our half-day of fun on the river.  The other tourists in our raft were from Switzerland and Germany, but they all spoke English fine, so our guides spoke English.  This was very nice for us.  Our guides were from Costa Rica and Tasmania, Australia, so I think they actually preferred the English anyway.
We had some instruction and practice before we actually got in the river, and then we had 2 hours of rafting time down 20km of the river through what's called the Switzerland grand canyon.  I don't think it compares at all to the real Grand Canyon, but it was an amazing ride.  The rapids today were low, class ones and twos were all we saw (the lowest two classes as rapids go up to a class six), but it was certainly enough for us all to have fun.  When no one else volunteered, Mark and I offered to ride in front which was the perfect place to get lots of splashes.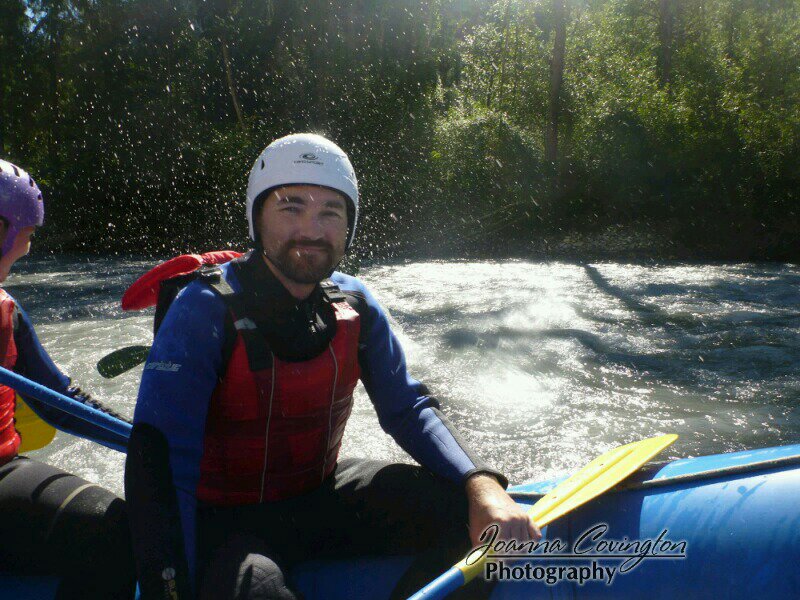 Today was an absolutely gorgeous and sunny day.  The first thing we noticed when we woke up this morning was that we were surrounded by snow covered mountains!  We had an amazing view from our porch this morning.  We couldn't believe it, really.  After yesterday's low clouds, today was like waking up in a whole different place!  So rafting had perfect weather.  In fact, it was almost too warm in the sun and in wetsuits, so we made sure to have splashing contests with the second guide who was in the kayak following us. 
In order to make it more exciting, our guide had a lot of fun taking us up on large rocks in the water to give us some excitement.  I have to admit that the first one got my heart pounding, but then I realized he was doing it on purpose.  Mark and I have rafted class threes, fours, and even a five before, so this rafting was very easy.  We really enjoyed ourselves, though.  Through most of the ride, we were traveling between stark white limestone walls carved out by the river below.  In fact, much of the limestone was weathered down to form pinnacles along the tops.  It was really interesting and I tried my best with my waterproof camera to get some photos, though I've got a lot of water droplets in my photos.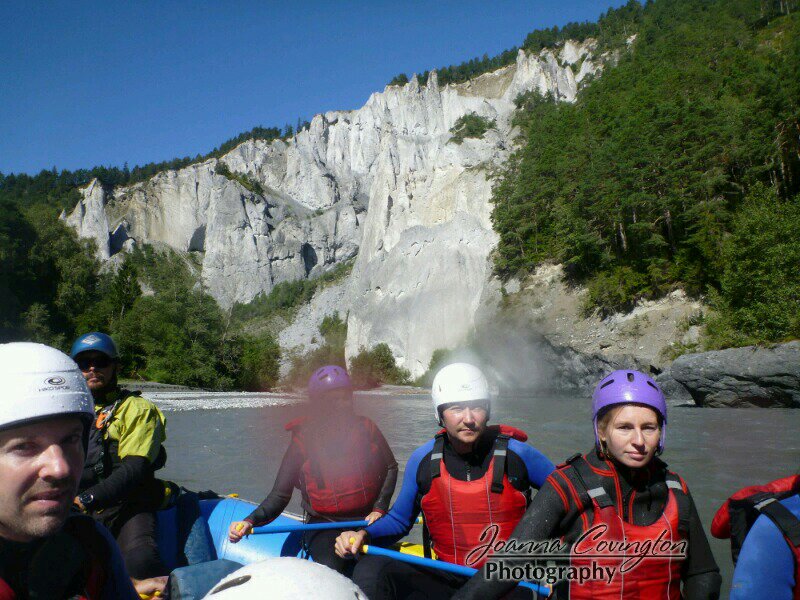 After we finished rafting it was after noon and they had snacks waiting for us when we got out.  We chatted with everyone, ate snacks, and then eventually said goodbye where we had a short walk to a bus station that would take us back to Trin.  It was an easy connection from here in Reichenau.  We came back home to change clothes and grab our hiking stuff and we were off again, catching the bus up to Flims.
From Flims we could easily catch the cable cars and chairlifts up to the top of Cassons.  We came here on a whim, but this turned out to be probably the best decision of our entire vacation.  We were most impressed to find that the chair lift stations here are high tech enough that you can use them in the summer.  The chairs come into a station similar to a gondola station.  The chairs actually are taken off the cables so they can be slowed down enough to sit on while wearing shoes, and most importantly, to stand up and disembark while wearing shoes and not skiis.  We took two chair lifts, and then a gondola to get all the way up to the top of Cassons.
WOW!!!!  The view from up top was incredibly UNREAL!  Undescribable even.  We were literally in a snowy swiss alp mountain wonderland.  It was so beautifully gorgeous it almost looked fake.  We could see for miles and miles and we were surrounded by snowy mountain tops everywhere we looked.  We only had an hour up here before the last cable car down, and we took the time just to walk along the path and pretty much just sit and admire the view.  My photos really don't do it justice and I can't wait to take them home and work on them on the computer to try and show you what we really saw.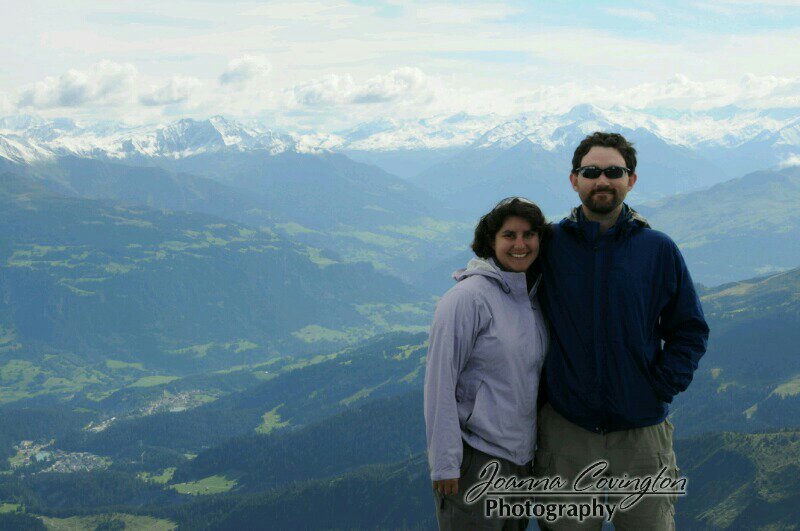 Though sunny and clear out, it was really quite chilly up here on this snowy area.  We were in fleece plus rain jacket and with the wind whipping, it was still cool.  We really could not believe all the amazing sights around every corner.  What was most interesting was that this area wasn't advertised in any of our tour books or really anywhere.  We just came up here on a whim looking for something to do for half a day.  But, I promise, this is totally worth it and everyone needs to come to Switzerland and up to Cassons.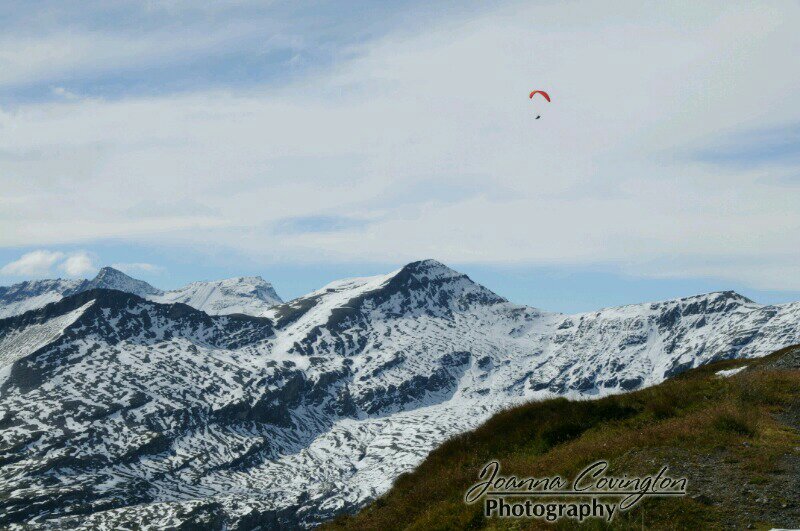 We were the last people to come back down on the last gondola down at 5:15pm.  The chairlift guy at the next station was just waiting for us and put us on chairs down.  The next chairlift station guy was waiting too, and before long we were at the bottom and looking for a place to eat dinner. 
We could see a place called Casa Mexicana and, well, we had to give it a try.  You have to remember that Mark hasn't had real Tex-Mex since January, so if this is the best he can get, we are going to go for it.  Mark enjoyed his fajita, but I was seriously skeptical when our waiter pronounced tortilla, tortil-la.  With the L sound and not the ll sound.  Then the waiter who said tortil-la served me an enchilada dish that was really the oddest I've ever seen or eaten.  It was okay and all, but I had to just abandon the idea that it was an enchilada.  It was round, in a casserole dish, very sweet, and kind of odd tasting.  Oh well, we gave it a shot.
We missed our hourly bus back to Trin by 20 minutes, so for the 40 minute wait, we decided to eat dessert at a different restaurant and then we headed back home, pretty much straight to bed.  It's been a long day!  Oh, but what a wonderful day it was.  =)