Thursday, August 30, 2012 (Day 13)
Brunnen, Appenzell
weather: comfortable and cloudy; later on cool and rainy
Today is our last day in Brunnen, and our last apartment rental on this trip.  We are headed to a new-to-us area of Switzerland, Appenzell.  Appenzell was highly recommended by Rick Steves as a very traditional town in the northeastern portion of Switzerland.  We woke up early this morning to finish packing and were checked out of the apartment by 9am.  The host graciously offered to drive us to the train station and we gladly accepted. 
It took us 2.5 hours on a few different trains to get to Appenzell and we arrived easily around 12:30 in the afternoon.  Our Hotel Adler not too far from the train station, didn't bat an eye at our early arrival and handed us the key to our room as we walked in.  The hotel seemed to be more focused on their restaurant than the hotel, but it made it easy for us.
We dropped our bags in the room and took our picnic lunch across to the river to eat lunch.  We were right across from what turned out to be the Appenzell beer brewery which we didn't know anything about and promised to check out later.  At the end of lunch, it started to sprinkle, so we headed back to the hotel so I could unpack and we could wait for the rain to subside. 
The Appenzell Museum didn't open until 2pm anyway, so it was a good little break.  One of the main draws of the town this time of year is the cow processions through town when the farmers bring their cows down from the mountains.  I'll go into more detail on this on another blog.  We were hoping to catch one of these and while we were in our room, we heard the cow bells and realized we missed it!  =(
As it turns out, though, when we visited the tourist information, they mentioned another cow procession was scheduled for tomorrow, so we didn't feel so bad.  Also, we confirmed a folk music concert tonight and found out the Appenzell Museum was connected to the TI.  Rick Steves had called this a Moo-seum, but he must have come when there was a cow exhibit here.  We arrived to a goat exhibit called Chomm giz giz giz.  The exhibit of course was all in German, so we really had no idea what was going on, though we were amused by all the goat photos and exhibits.
The rest of the museum was much larger than we had though.  I really loved the interior of the building as we kind of zig zagged around up hidden staircases and into adorable little rooms full of cultural displays.  It seemed like we kept finding more and more rooms on more and more floors.  We were given a small English translation of several of the exhibits, though we could see it was definitely more extensive in German.  There was an embroidery exhibit where they had a volunteer sitting there working on some embroidery right there.  We could watch in amazement over her shoulder.  People around the town still wear traditional costumes.
We walked around the main tourist street in town with our umbrellas until it really started raining out.  We ducked into the nearest shop and hung out for a little bit before we decided to retreat back to our hotel room until it was time for the folk music concert.  We need time off from vacation so that I can do laundry, and type and Mark even did a little work-related things.  Fun, afternoon, I know.  =)
At 6:30 the folk music concert was due to start and the hotel hosting the free event was only 2 doors down from our hotel.  We got there a little early which was good since the place ended up being completely crowded.  The concert was really neat too.  There are several traditional instruments for a 4-person ensemble including the string bass, the accordian, a fiddle, a piano, and an instrument we've never seen or heard before called the hammered dulcimer.  This instrument looked similar to a steel guitar (at least from a distance), sounded something like a harpsichord, and played like a xylophone (with special mallets).  We were very intrigued and interested.  Unfortunately we were sitting towards the back of the room, but I'll definitely have to youtube a video of one being played.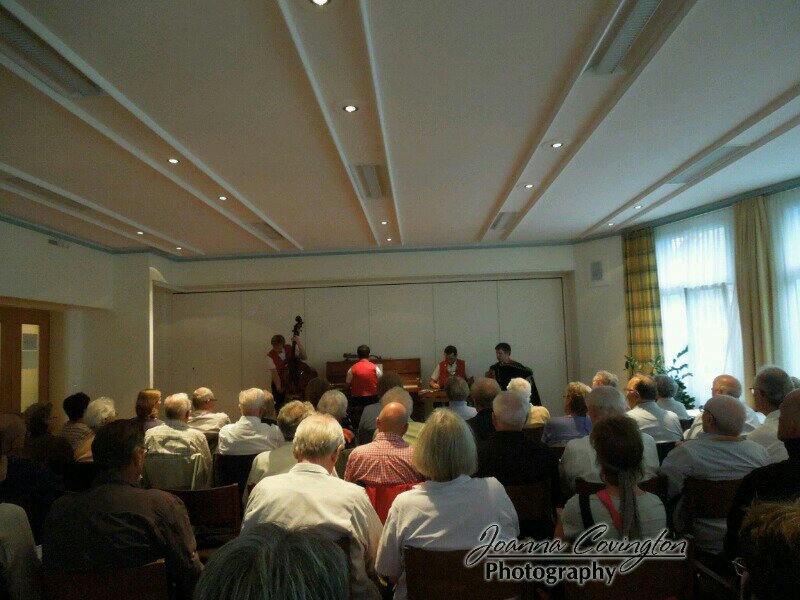 The music was really cool and very unique sounding.  There were only 4 musicians that rotated between 6 different instruments.  We had several songs with 2 accordions even.  Between tunes, one of the guys would usually get up and speak (in German of course) and tell some jokes.  The whole audience was loving it and we just laughed along.  There was a couple next to us who were from California and also had no German background and we had a few laughs of our own.  The concert was an hour long and then we headed off to dinner.
Following the Rick Steves recommendations for the town since the Lonely Planet didn't mention much about it, we ended up at Hotel & Restaurant Taube for dinner.  Guess who we saw?  The same couple from California.  We decided to join and make a table of 4 and we officially met Brenda and Corey and had a lovely dinner conversation.  They were just starting their Switzerland journey, so we gave them some recommendations.  But we also found out that we've traveled to a lot of the same areas including both of us being in Greece last Sept/Oct.  In fact, we were stuck in some of the same strikes and we shared our experiences.  It's always nice to chat with other travelers.
Mark tried the Appenzeller cheese in his dinner and we were treated to the amazingly stinky smell of the town's claim to fame.  Luckily it tastes good, because it sure smells.  =)  I was happy with a small rosti.  After dinner we basically just went back to the hotel to plan out tomorrow and work on some blogs.