Friday, August 24, 2012 (Day 7)
Meiringen
weather: gray and cloudy, but no real rain, cool-ish
Today we leave Grindelwald and travel to near areas.  We aren't going too far as we are just going to Meiringen around the corner from Grindelwald.  We caught the 8:19am train out of town which meant checking out early from our wonderful apartment at Chalet Alpstein.  We really had a wonderful stay here and the host was happy to come early to pick up the key. 
The train transfers were easy, going first to Interlaken Ost, then over to Meiringen.  In Meiringen we walked the block to our hotel planning to store our bags until check in time.  Amazingly enough, our room was ready now around 10am.  So, we were able to drop the luggage off in our room and pull out the still slightly damp laundry to continue drying.  And then we were off to the bus station with a picnic lunch from the grocery store.
The busses here seem to be run by the Post.  The Post runs everything.  They had mail, post office boxes, sold electronics, had the bus system and a financial system to name a few.  Also, our Swiss Pass worked on the bus system so we could travel for "free."  It wasn't too hard to find the right bus and the drivers were all very helpful.  We had one bus transfer because our final destination was the Triftbahn.
The Triftbahn is a small cable car that takes hikers up a mountain to the start of the Trift hike.  Most of us are headed for the Trift suspension bridge at 170 meters long and 100 meters high above the Trift Glacier.  Mark actually found this bridge in an email link back in April and reminded me about it before this trip so I could plan a visit.  The Triftbahn was originally built to take 8 workers at a time up to an underground reservoir and dam for work each day and today continues to operate to take tourists up here. 
Our cablecar ride was about 15 minutes long and felt tight inside the car with just 6 of us.  The sky was still cloudy, but every time we saw a sliver of blue sky we cheered for the sun to come out.  At the top, we were very surprised to see the station up here was not manned, and it was up to us to open the doors at the green light and go on our way.  We are too used to the American way of thinking that everything must be manned and people cannot be trusted.  We have tickets for 4:12pm for our ride back down.  Since only 8 people fit at a time, we were assigned a time to come back when we purchased our tickets.
Finally at the top about 11:45am, we started the hike estimated to take 1.5 hours to the bridge.  The hike was technical in spots, very narrow in others, and pretty much all uphill.  We made lots of stops for photos and also to catch our breath.  We are hiking in a very wide gorge, basically, and every now and again we can see the Trift Glacier up ahead.
When we stopped for breaks we could feel the cool, very light breeze, but even with the cooler air (65 to 70) we were working hard enough to stay very warm.  Down below the river churned across the rocks, the color of scotch tape.  Many others were on this hike.  It is always fun to hike in Switzerland and really most of Europe as there are many languages spoken on the hike.  We call out Hello, Hallo, Bitte, Ciao, and other greetings to various people. 
I was slightly disappointed to learn that the cover photo for this bridge with the blue lake and glacier in the background was obviously a helicopter photo and there was no way I could get the same photo.  However, I pretty much figured as much.  We still hiked down some boulders off the path to try and get some decent photos of the bridge.
The bridge is incredibly well-built across the gorge.  There was an information station at the start of the bridge as well.  By the time we got our photos and made it up to the bridge, the wind had picked up.  We'd been hiking with an incredibly light breeze and now the winds were gusting probably at least 60mph!  I was literally knocked over by the wind at several points as I tried to stand and take photos and it was absolutely impossible to look into the wind without sunglasses for eye protection. 
We decided to wait to cross the bridge and eat our picnic lunch in a sheltered area behind a large boulder.  We could still see the bridge and laughed as everyone tried to cross in the high winds holding onto the side with their clothes whipping away in the wind.  Unfortunately, after lunch, the wind hadn't died down, so we took our turn on the bridge.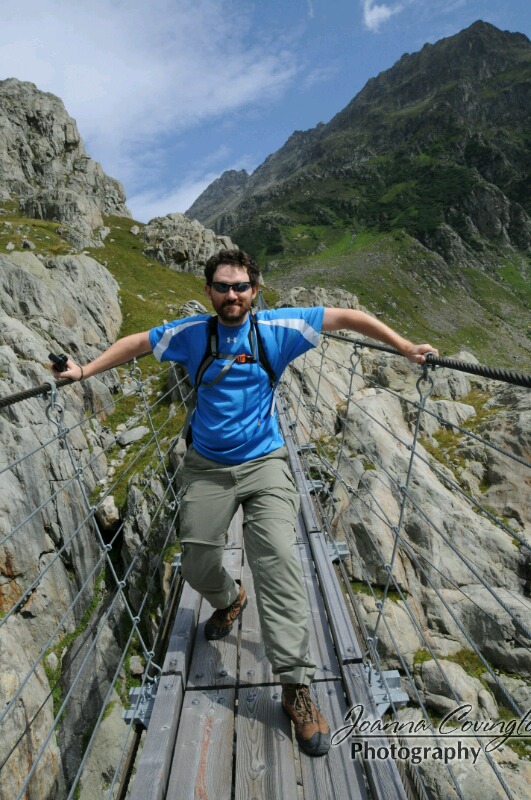 The first thing I noticed was that the bridge didn't sway as much as I expected.  It was held in place very well.  I admit that it did feel a bit freaky crossing in the crazy wind, but it was also so much fun and amazing that we could be up here.  We spent a lot of time here taking photos before we had to finally leave and head back down to the cable car.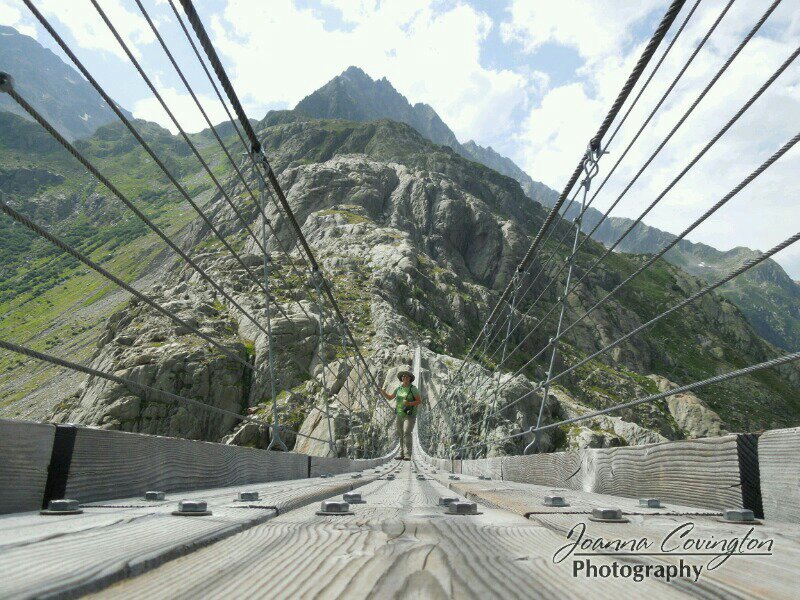 The trip back down was faster since it was all downhill, though some of the spots were technical with all the rocks to step on, around, or over.  We had a tailwind going back and Mark commented that the wind was going through the whistle on his backpack and making it sing. 
We were actually hiking on the opposite side of the gorge than the cable car station, so just before we made it to the station, there was a bridge crossing the river.  The river was raging just below the bridge and alarms and lights were stationed at each end of the bridge to alert us in case of a flash flood.  Next to the water, though, was delightful because the cold, glacier water cooled the air down at least 5 degrees and felt like some a/c to us.  We cooled off here before going up to the cable car.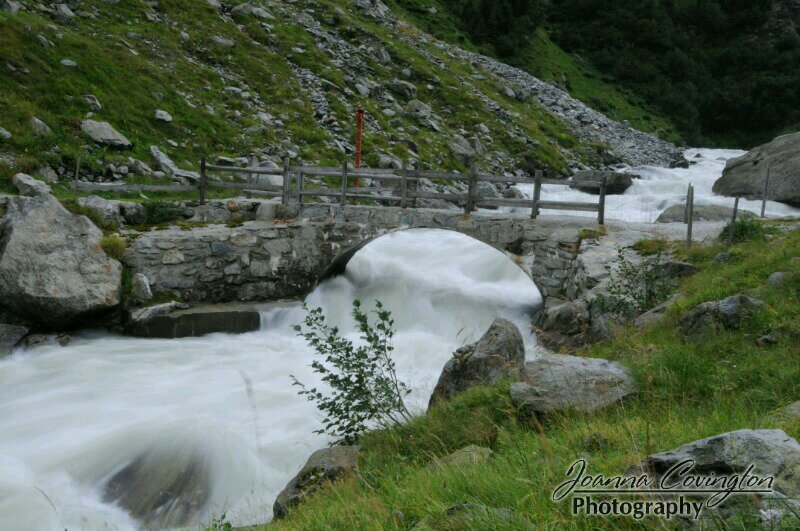 At the cable car we had exactly 8 people, and there were no issues with people without tickets wanting to ride down.  Once again, we all were trusted to enter the cable car ourselves for the descent.  The staff at the bottom took our tickets and we were back down at 4:30pm.
We made it in perfect time a well, because it did start to sprinkle just as we made it down and we had about 15 minutes to wait for our bus huddling under a tiny building overhang.  Several of us hikers were here, though we didn't speak the same language.  From here it was easy to catch the bus to Innerkirchen, then catch a train back to Meiringen.  On the way we passed by the  Aareschlucht Gorge East entrance and the train actually stopped inside the tunnel for people to get on.  I  hadn't heard anything about the gorge so I started researching it.
As it turns out, the gorge looked pretty neat and was open until 10pm for a floodlit walk along the gorge.  We had time to go back to the room, shower, change, have dinner and still go back out to the gorge.  =)  We found a place for dinner selling rosti's and we were delighted to each have one for dinner.  Who can say no to melted cheese over potatoes, bacon, and onions.  Mmmm. 
From dinner it was only about a 40 minute stroll to the Aare Gorge, so we opted to walk along a quiet street lined with Swiss chalets covered in flowers and with little gardens out in front.  It was a lovely stroll for sure.  I told Mark I couldn't even imagine living in a place so pretty.  With mountains on either side, a river running near us, and Swiss chalets decorated in flowers, we knew we had to be on vacation.  =)
After 5:30pm, only the west entrance to the Aareschlucht is open.  Normally during the day it would take about 45 minutes to walk to the east entrance from the west and then you could catch a train back, however, at night we learned that the east side was locked and closed.  We were also surprised that only half of the walk was open at night.  We were prepared to walk the whole thing forward and back tonight.  However, they only lit up the first half as apparently that half is the most interesting.  I was secretly glad, though.  After a long day of hiking up and down over rocks, I was feeling a bit tired. 
We entered probably around 8 or so, 30 minutes before the sunset, so there was still some residual natural light.  The gorge is very cool.  It is narrow, with steep, tall walls and in many parts we were completely inside a tunnel.  They had built a wooden cantilever walkway along one side of the rock for tourists.  The water has made some interesting formations through the limestone rock and with the added illumination floodlights, we were treated to some amazing photo opportunities.  It felt as if no one else was here, though I think we might have seen a total of 5 people on our walk.  At one point a fog had rolled in over the water creating a eery atmosphere. 
We found out that we had missed the hourly train by about 10 minutes once we left the gorge, so we walked back to town and finally to our hotel room where we could relax and sleep.  We certainly had a fun-filled and very busy day today.  Tomorrow we'll check out the Sherlock Holmes portions of Meiringen before heading on to Lake Lucerne.