Tuesday, August 21, 2012 (Day 4)
I feel like this is our first real day of vacation because we aren't doing any traveling today. Instead we are waking up in our lovely studio apartment in a Swiss Chalet over looking the Eiger mountain here in the Alps. It is quiet except for the noise of the river down below. We looked outside and it was a beautiful day!! I think today is a great day to travel to the Jungfrau, Top of Europe.
Last time we went to the Jungfrau, it was an extremely cold and snowy day. We did not get to partake in most of what the Jungfrau has to offer. Here's our blog post from the last time we visited: Jungfrau 2012 It's fun going back in time to my old blogs and researching my own experiences. So, off to the Jungfrau we go.
To get there, we boarded the train from Grindelwald to Kleine Scheidegg. Then we boarded the special Jungfraujoch train up to the top. This year is the 100-year anniversary of the tallest railway in Europe and we learned a bit of history along the way. It is hard to believe that 100 years ago, men were tunneling through the mountains to build a railway for tourists to visit a snow paradise. There are 2 stops along the way where at each stop we had 5 minutes to look out the windows in the mountain at the views. We were amazed at how different this was from our last trip up when all we saw was a white snowstorm. In fact it is fun to compare and keep saying, remember this, remember that? =)
Finally at the top, we were curious to see how cold it would be on a snow covered mountain when down in Grindelwald the temps were in the 80s and up to 90. It felt cold as we got off the train inside the mountain tourist center. We stopped to bundle up. I brought all kinds of warm clothes with us on this trip because I knew we'd be taking excursions to snowy mountain tops.  I brought it all to Jungfrau.  We put on our fleece, then soft-shell jacket, then rain jacket.  We had warm hats, gloves, and neck warmers.  And then the rain pants went over our hiking pants.  We were ready!  Then we stepped outside and within minutes, the hat came off, the gloves were off, the neck warmers off.  Then the rain jackets off, the soft shells came off.  Soon I was rolling up my fleece sleeves.  It was warm!  With the sun beating on my thermometer, it was reading 70 degrees.
The best part of being warm in the snow, though, is when you sit down or kneel in the snow, you instantly cool off.   =)  With the rain pants still on, we kneeled and sat many times.  Of course then your body is so confused wondering if it's cold or warm.  From the tourist building built inside the mountain, we had a 45 minute walk through the snow to a mountain top hut.  Next to the building, though, was an area of snow fun where one could rent a sled or a tube and go sledding.  There was a short zipline down that was hilarious because the zipline just deposited you bum first into the snow to brake.  Mostly though, we wanted to hike.
Through the snow we went.  The 45 minutes was a bit ambitious.  I think we made it to the hut in over an hour, but it was fun.  Walking through the snow without snow shoes proved to be slow going and most of the walk was up-hill too.  The views were absolutely superb though!!  Wow.  We could see the top of the Aletsch Glacier.  In a week and a half or so, we are actually going to be hiking over the bottom of that glacier.  Now that's just cool.  The glacier actually looks like a giant highway the way it is striped.  We could see all the surrounding snowy alps mountains and of course the snow surrounding us was amazing as well.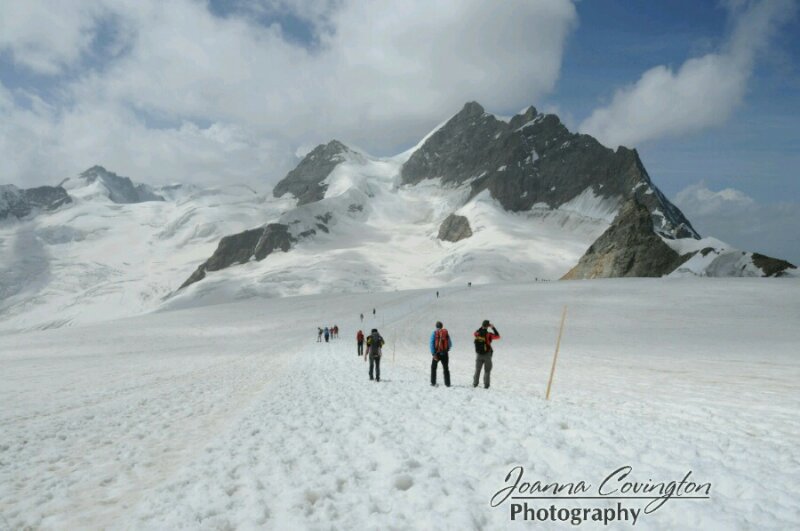 The walk was amazing.  We remember last time we were here I think we managed to step outside the door and walk about 3 minutes in the snow storm with no views at all before we gave up.  Now we have beautiful weather.  Certainly if you are here, I would wait for a pretty day to come up. 
The mountain hut offered us more magnificent views as there was a bit of a saddle in the mountain peaks so we could see to another side.  Also, we found a base camp of hikers who had their tents set up and were hiking to many of the peaks with their crampons and ice axes, tied together by rope in case one fell.  We'll stick to the given path for now, thanks.  The best part of hiking in Switzerland, is that when you hike to a hut, that hut serves wonderful food.  We went inside for a magnificent lunch where we cooled off a bit before heading back.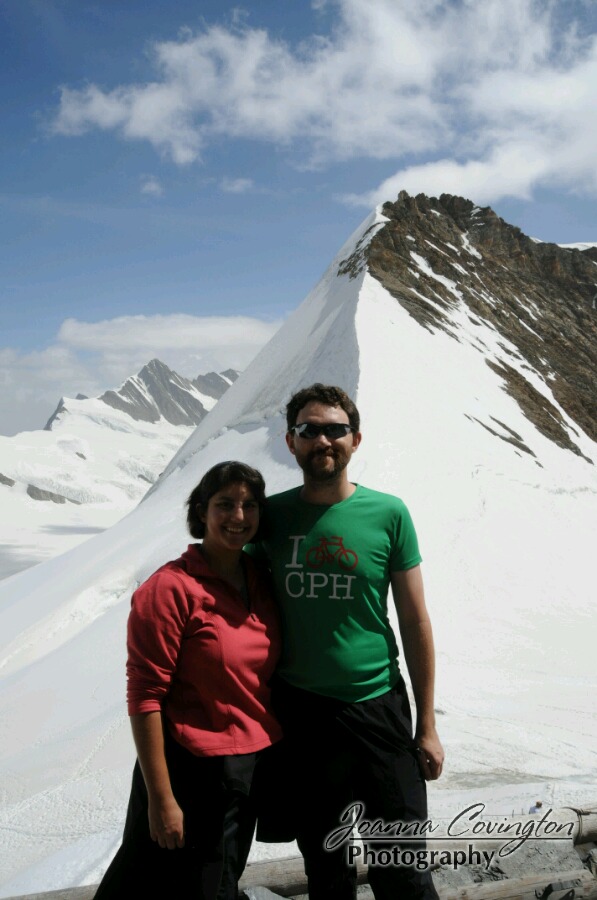 On our way back, the breezed picked up a little so we could roll down our fleece sleeves, and the walking was much easier since we were going downhill.  We could almost ski along on our hiking boots down the hill.  I didn't want our walk to end, so we stopped many times for photos.  With it being so sunny and warm, the mountain peaks around us were booming as the snow and ice melted creating tiny avalanches or waterfalls of snow.  We were lucky enough to see a few.  I kept waiting for one of the bigger pieces of snow to fall down for us while my camera was pointed at it.  =)  \\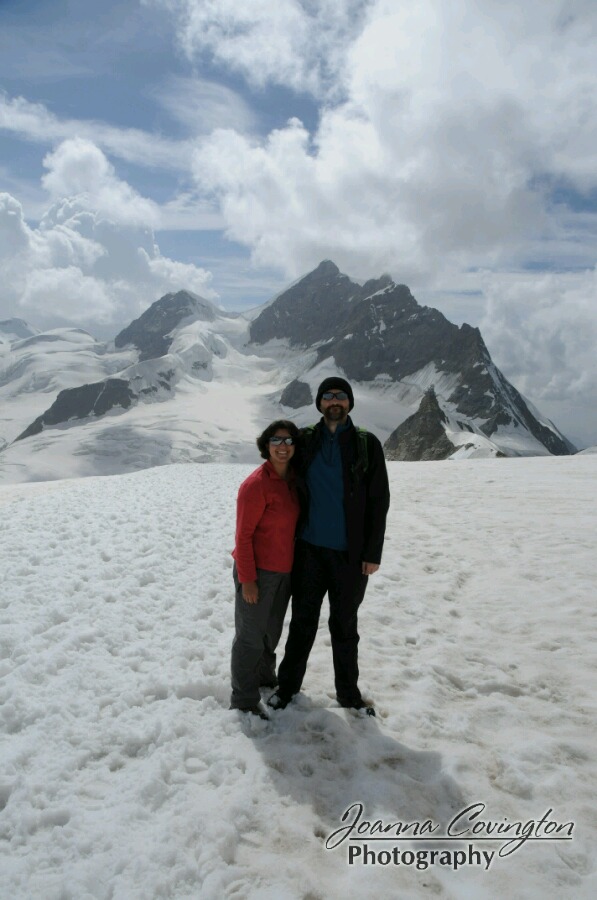 Inside the Jungfraujoch tourist building again, we walked around.  They had a 100-year exhibit honoring all the people who build the railway and the station.  We also walked through the ice palace with the ice floor, walls, and ceiling as well as the ice sculptures.  It's always fun to slip around on the ice, right?
Finally, we ended up at the sphinx which is an observatory build out the top of the mountain.  We remembered being here 2 years ago when it was all closed to ice.  This time we could walk all around and see the views.  What a great visit.  We stayed until closing and took the last train down at 5:45p.  Of course everyone was taking the last train down and it was pretty full.  Then we hopped on the last train back to Grindelwald and went back home to drop off our stuff.
Finally, we walked out to dinner and at Hotel-Restaurant Steinbock and realized we had eaten here last year.  It was still very good and I remembered this was the first place I tried profiteroles so of course I had them again tonight.  It was a great end to a great day.  We love Switzerland and we are so happy we came back.