June 26, 2012 (Day 14)  Bike Day 8
Bike from Nykøbing – Stege/Island of Møn
78.3km (48.7 miles)
10:00am – 5:30pm
weather: cool-cold, very windy, cloudy, but no rain
Today, being our first full day in Denmark, we decided we'd go into the town and find a mobile phone store to purchase prepaid-SIM cards so we could have data and phone service during our Denmark stay.  We have been doing this for a while now and it has worked very well for us to have the internet in our pockets.  It was perfect for Germany since many of the hotels didn't have wifi, but we were still able to get email and other basic internet-related tasks like Google Maps.  We were one of the last cyclists to leave the hotel this morning.  Breakfast was properly varied at the Hotel Falster and this was the first hotel to offer any sort of pastries with breakfast.  There was also a fancy cheese-slicer that intrigued us.  No hot food, though.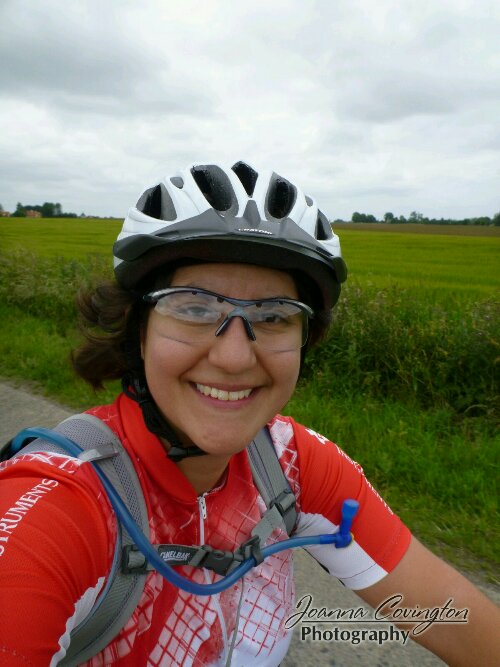 We rode into town after 9am, but found out the town didn't open its doors until about 9:30, so we putzed around checking out the interesting fountains and shops.  There was one fountain that consisted of water slowly dripping off a rock held cantilever-style off a metal pole.  Another fountain held a fascinating and very large piece of machinery that we never did figure out due to the lack of English signs.  When we parked our bikes at the bike rack, it took several minutes to figure out how it worked.  The rack was located at handlebar-level and you were to raise a metal bar on a hinge to secure the bike via its handlebars.  It almost worked.  =)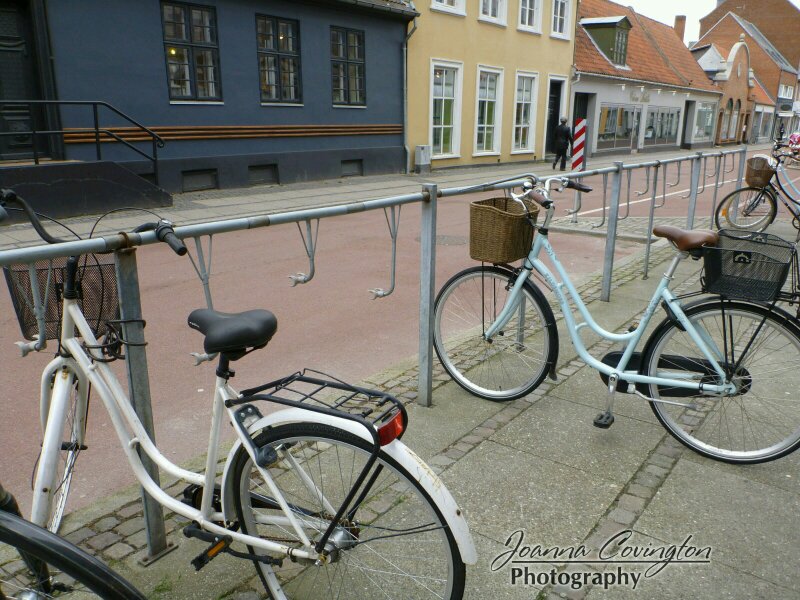 Finally, the shops were open and we found out that Denmark mobile companies don't quite yet sell prepaid (or tourist) SIM cards with data.  After going to a few stores, we were told to try the post office.  The post office is more like a FedEx Kinkos here with a shop that apparently also has SIM cards.  Of course the post office didn't open until 10am and after looking at the meager selection, we decided to bike on, finally starting our bike tour after 10am.  We figured with our late start there wasn't much of a chance that we'd see any of our biking friends today.
The start of our ride was great, on a dedicated cycle path through the woods.  Of course due to recent rains, the paths were completely covered in slugs!  Yuck.  And the slugs were HUGE.  Mark had one slug fly up off his wheel onto his leg and then drop onto his sandaled-foot.  Yuck, yuck.  We cycled past some lovely fields covered in flowers and I took some time to photograph one particular field of red flowers.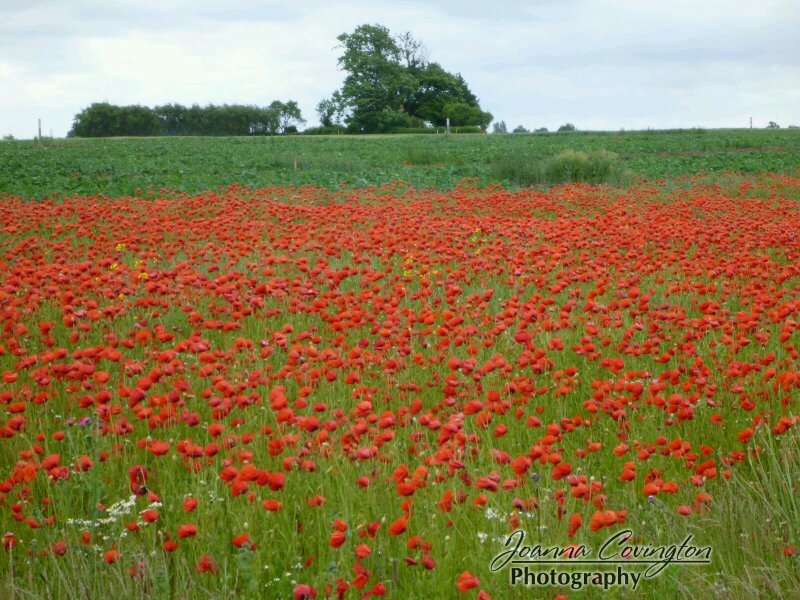 For the first part of the ride, we were really just trying to get moving due to our late start this morning.  Our book indicated we had 60km to bike today, and we had looked up that our final hotel was 4km outside of our final town.  Of course the final ride ended up being 78km so that was mis-advertised!  So, we were off.  The start of the ride had a magnificent tail-wind, so we were able to bike much faster with ease helping us to catch up to our group.  We also had quite a variety of biking surfaces today.  We had some cycle paths, then some road biking when the path ran out, and then some forest biking.  But we also had some, what I would consider real mountain biking where the path was just barely wider than the bike wheel and it took a lot of concentration to stay on that line.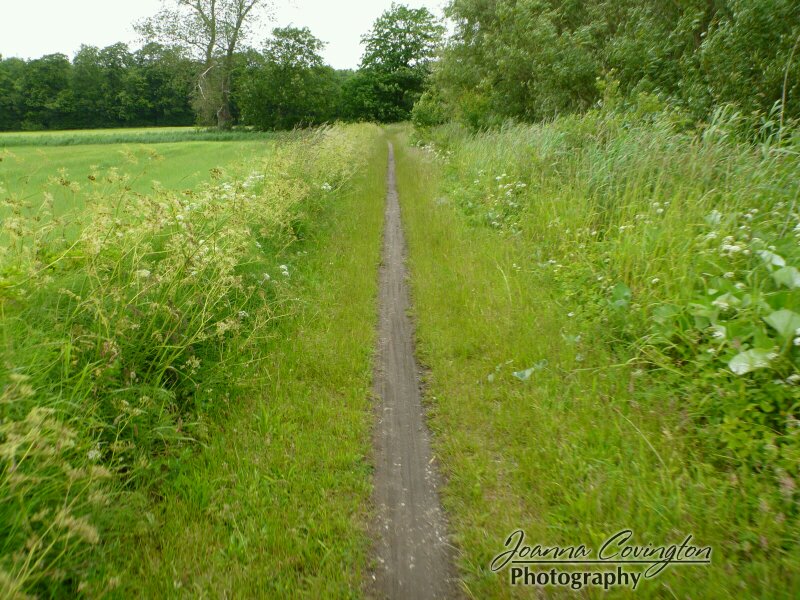 We also saw many bunnies (they were actually hares, but I like the term bunnies better) running around both on and off the road.  We biked through some towns with amazing thatched roofs.  Today was a day when I would have really wanted a GoPro camera mounted to my helmet so I could concentrate on the biking while still being able to take photos and video.  There were several paths that I would have loved to video, however it was too technical and I needed two hands on my handlebars.  One path in particular was so off-road that the plants were scraping our ankles as we road by and we could just barely tell we were even on a path.
Oh, and we had more fields of the grasses waving in the wind which look amazing.  I finally stopped to take some video of the grasses flowing in the wind like waves in the ocean.  Of course, this also put the song "Oklahoma!" back in my head for the entire ride again today.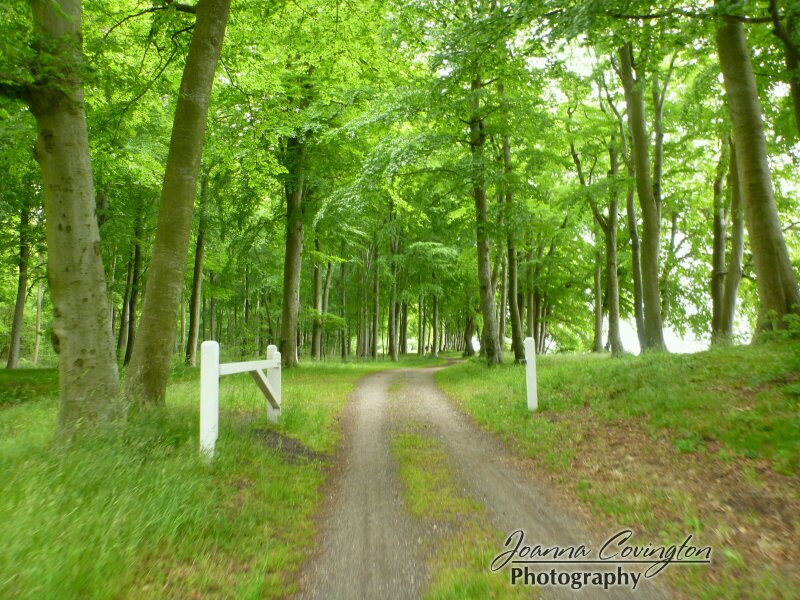 Finally we made it to the town of Stubbekøbing where we would take a very short 15-minute ferry over to the island of Bogø to continue our journey.  We were about 40 minutes early for the hourly ferry and luckily there was a little fast food place on the dock serving food and ice cream.  The biggest thing now was to get out of the wind!  We were warm enough for short sleeves while cycling, but as soon as we stopped we were chilly and in goosebumps.  Plus the wind was getting to that uncomfortable level whipping across my face all the time.  I just wanted to sit indoors.  We ordered randomly off the Danish menu, but the guy behind the counter spoke English, so it was easy enough.  Mark got a chocolate milkshake to go with his burger, but I found their fridge had chocolate milk, my favorite kind of energy drink on a bike ride.  =)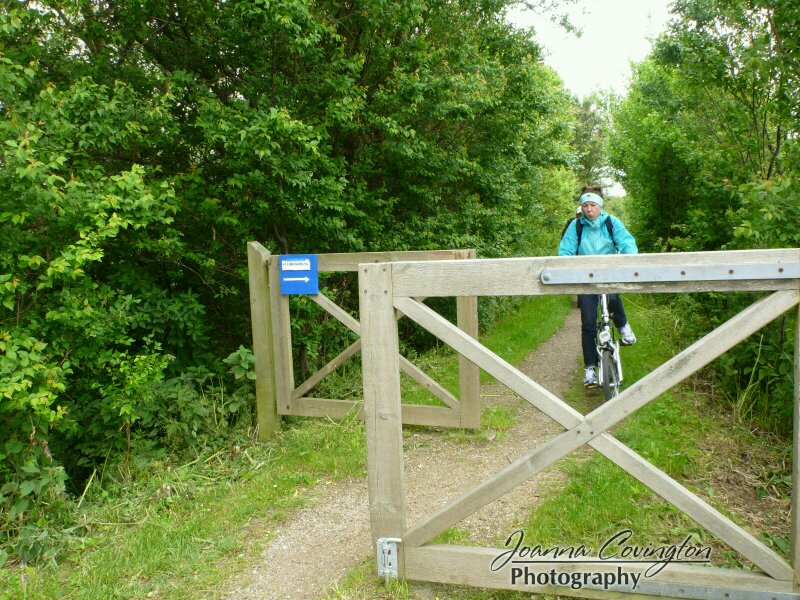 While waiting for the ferry, many other members of our cycling group showed up to take the same ferry over!  We were surprised we caught up to everyone, but others had made some longer stops in some of the towns or for lunch, so we were all almost together now.  Getting off the ferry was a group of probably 100 teenagers all with bikes and camping equipment.  We were shocked to the point of pulling out our cameras to take photos of so many people with bikes coming off the little ferry!  Our ferry ride to the other side only carried about 10 of us with our touring bikes.  Oh, and it was cold and windy!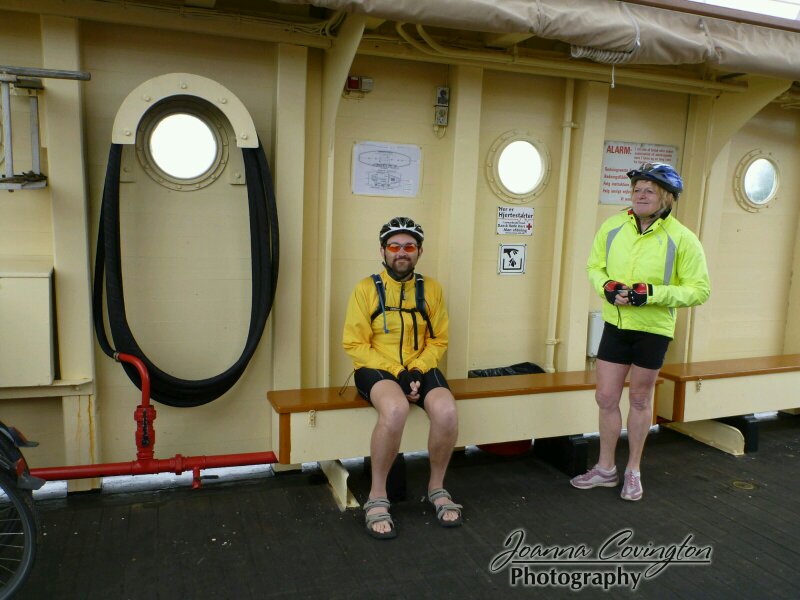 The island of Bogø is small and we didn't deviate from our tour route to try and make any stops.  Plus a massive tailwind helped us fly off that island over the bridge in record time.  Back to working again on the bike, we stripped off our jackets and rode fast along the roads.  We seem to have lost all the cycle paths, but there is very little traffic on the roads, so we can still even ride side-by-side for most of the way.
Our next stop was at a craft store.  We only stopped because we saw our other cycling friends stopped here.  It turns out that the craftsman at this store was an award winning basket weaver (yes, folks, basket-weaving does get you places).  He actually mixes concrete with his basket weaving to produce some extremely interesting art.  You've never seen anything like it.  I actually wish I could have purchased something, but all of his work was too large to carry on a bike.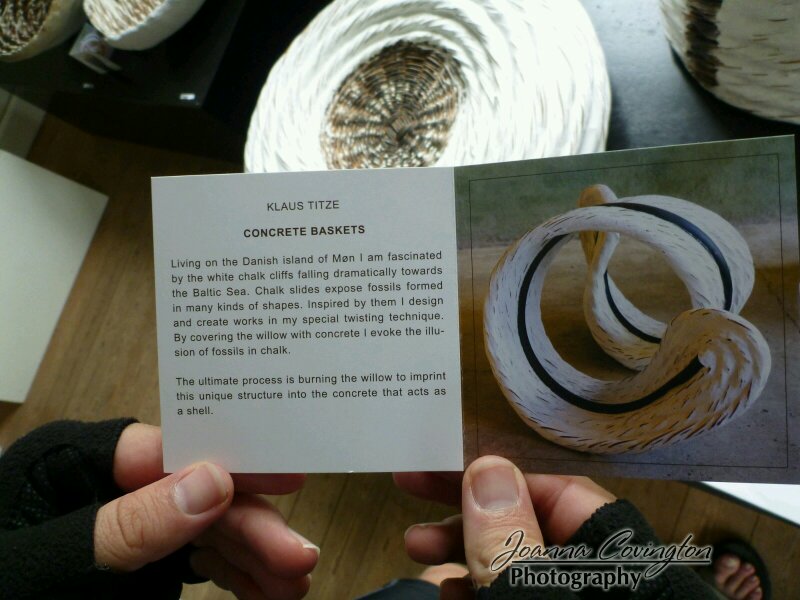 From here, we cycled on, taking turns passing each other as we all biked at different speeds and slowed down to look at different panoramic views.  If the sun had been out today it would have made the ride even more gorgeous.  The gray clouds tend to de-saturate the natural colors of the landscape.  I could see all the potential of beauty if the sun had only been out.  I would have loved to come back to this area on a better day, but when cycling, you only get to pass through the areas.
We were highly amused (and a little disappointed) as we found out that our signs indicating how many kilometers to go to our final destination of Stege were so incredibly wrong.  We passed by a sign saying 20km left, then 10km later we passed by a sign saying 20km to Stege.  Hrm….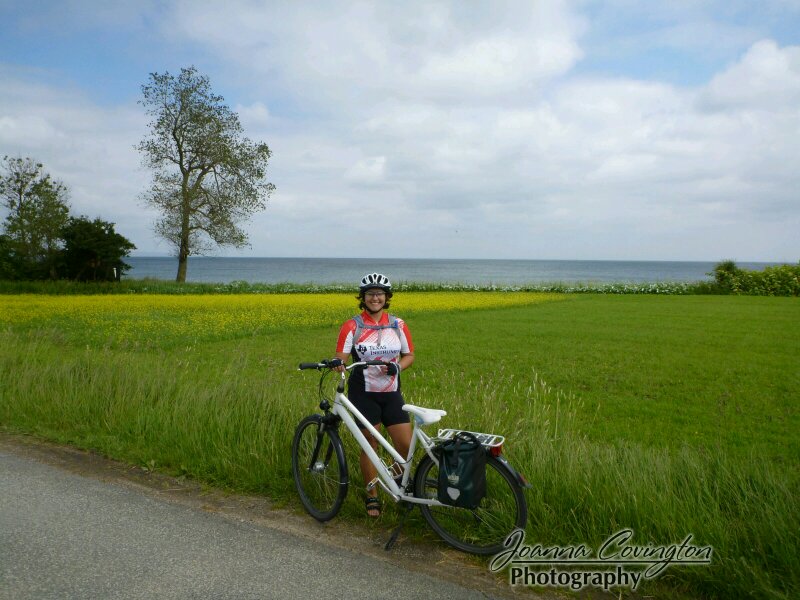 Finally we made it to Stege around 4pm or so meaning we had some time before everything closed!  The first sight we checked out was the churck (or kirke in Danish).  It was so nice to go inside and out of the howling wind!!  There were no other visitors while we were there, but there was a little pamphlet of information (in English even!) so we could learn a little about the church.  Unfortunately now I can't remember very much about it, but I do remember a very old and special model ship hanging from the ceiling.  It is taken down every 8  years in a special ceremony with a parade and everything for cleaning.  I also remember that the organ had to be replaced about 3 times for various reasons.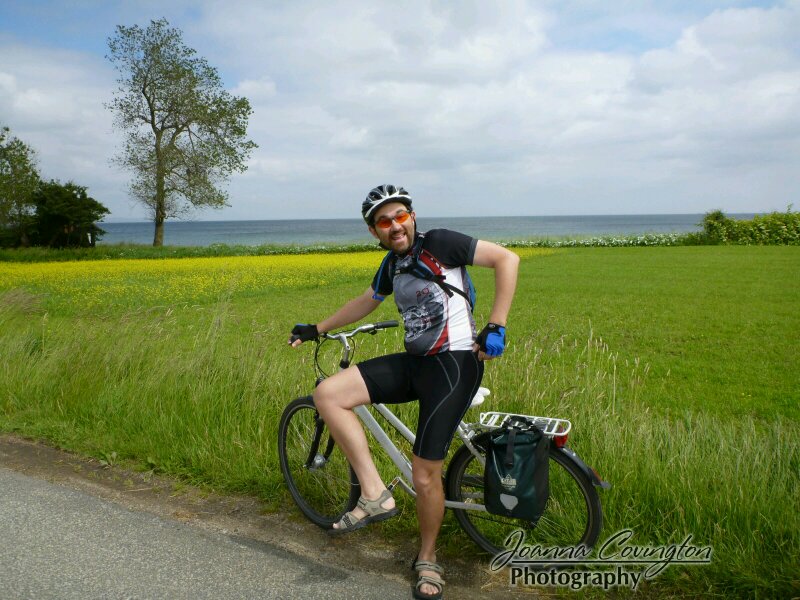 Back outside, we quickly put our jackets on because it was cold and oh, so windy.  The town of Stege had plenty of little shops, though most we didn't go into.  We did manage to find the local brewery which was supposed to be open according to our guidebook.  It looked a little dark inside, but we figured we'd try the door and see if it was open.  It was!  So, we went inside and ER-ER-ER-ER  the alarm system blared!  Ooops.  We stood there waiting for someone to come turn it off, but no one came, and finally we walked back outside.  Ooops.  Next door was a local wine shop and they sold some of the local beer.  That's really all Mark wanted.  The wine guy gave us a really good explanation of all the beer flavors and Mark picked out the DenSort flavor of the Brghuset Mon beer and we packaged it up in the bike bag so he could enjoy it later tonight.
Now the town was really shut down as it was after 5, so we reluctantly got back on the bikes to battle the wind the last 4km to our hotel located way outside of town.  This is unfortunate since we will be required to eat dinner at the hotel with nothing else to choose from.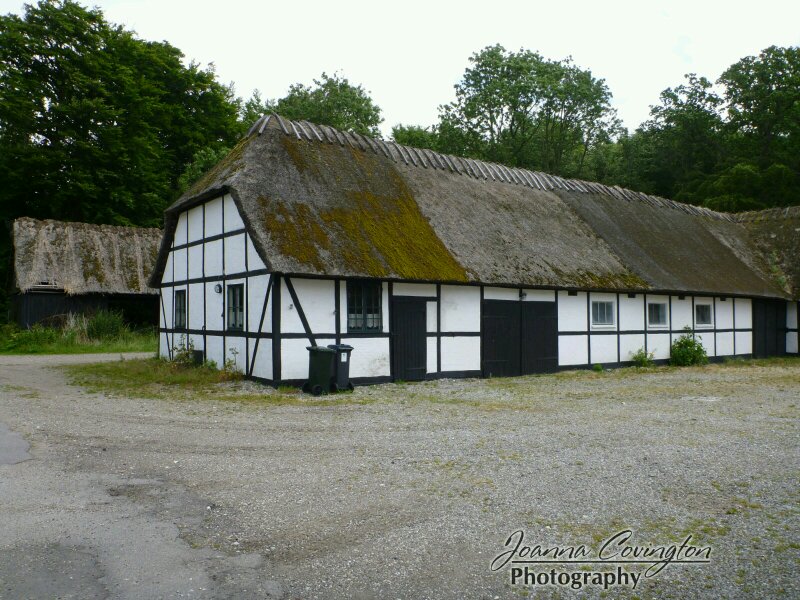 Now, wouldn't you know it, but by about 6 or 7pm the sun came out and turned the landscape into a beautiful panorama inviting us to go back outside.  However, by now we were showered and very tired from battling the wind all day on hybrid bikes and all we wanted to do was eat dinner and go to bed.  Our hotel, Præstekilde, is located next to a golf course.  We actually had a great view out from our bedroom window and could even watch the sunset after 10pm.
Dinner at the hotel was delicious.  We decided to go ahead and order their set menu which had a smoked salmon salad appetizer, a fancy pork entree, and then a crème brûlée dessert with fruit and sorbet.  We sat inside and out of the wind and gazed out at the sunny day almost….almost wishing we could go out and bike some more.  I don't think I could have sat down on the bike for a second longer though.  These hybrid bikes are almost built like comfort city bikes so we sit up with all our weight on the bike seat and not much weight on the handlebars.  However, our bike seats are more the racing bike style seats and are not made for these kinds of bikes.  Lets just say that I can't wait to get home to my road bike again where the bike is fit properly for me.
Hopefully tomorrow will start out just as beautiful as today ended.  =)