June 23, 2012 (Day 11) Bike Day 5
Bike from Krakow to Güstrow
28 km (17.4 miles)
9:00am – 12:45pm
weather:  gorgeous, sunny day.  windy, temps probably low 70s
I had joked last night that I should wake up at 3:30am and go take photos of the sunrise since it would be gorgeous just outside our window over the lake.  However, I didn't set an alarm or anything that like.  I wasn't serious afterall.  However, I woke up about that time on my own and peeked outside.  What I saw convinced me to get up, get dressed, grab a camera and head downstairs to walk around the lake.  It was gorgeous.  This was probably the first time on this trip that I really missed my DSLR camera and full-size tripod.  I managed just fine with the Canon G12 I rented and mini-tripod, though.  The ducks were up and swimming around in the lake and the draping trees made the perfect frame to my image.  Unfortunately I can't rotate the image to make the horizon straight for you on my tablet, but here's what I woke up to: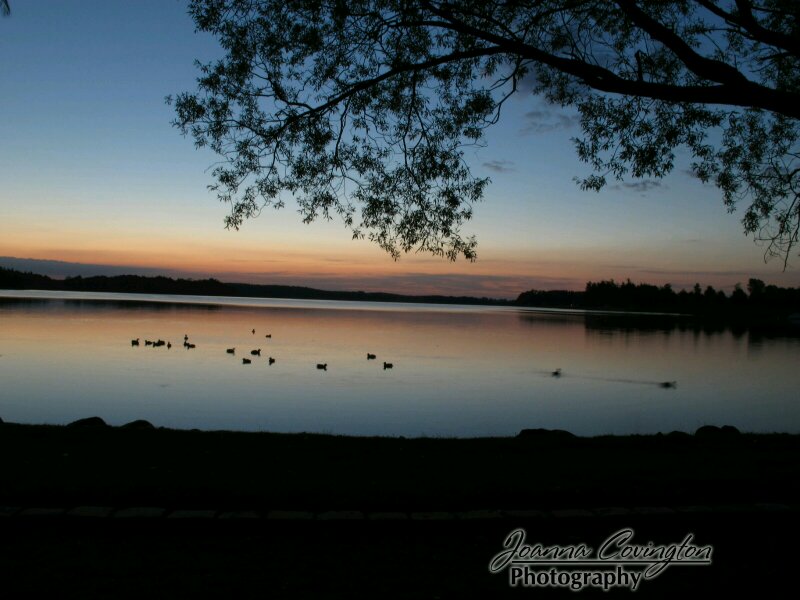 After sunrise, I went back to bed and slept just fine until it was really time to get up at 7am.  We realized we weren't the only people staying at the hotel when we saw 2 other people at breakfast, but we were amused that it was dead quiet in the breakfast room since the other guests were solo travelers.  We talked in a hush and had our normal yogurt, bread, and protein before heading out for the day.
We have a relatively short bike ride today, just 28 kilometers.  We weren't in a rush or anything, so we ambled out of town noting that the town was still completely closed.  I believe today was a Saturday, though it was incredibly hard to keep track of what day of the week it was.  Apparently no one in small-town Germany goes out on the weekend to shop.  Just outside of town we found ourselves on a most gorgeous cycle path between fields of wheat (or oat or barley).
I should clarify that all these cycle paths aren't really completely dedicated to cyclists only.  Many are, like the one along the roads, but these through the country do have the occasional car or two accessing the houses on the route.  However, we might see a car once every 2 or 3 hours.  It sure is nice to ride side by side and chat without worrying about the traffic.  In the fields, we had to stop and take photos of the wheat, the views, the blue sky, just all of it.  It was an absolutely beautiful and perfect day to be out on a bike.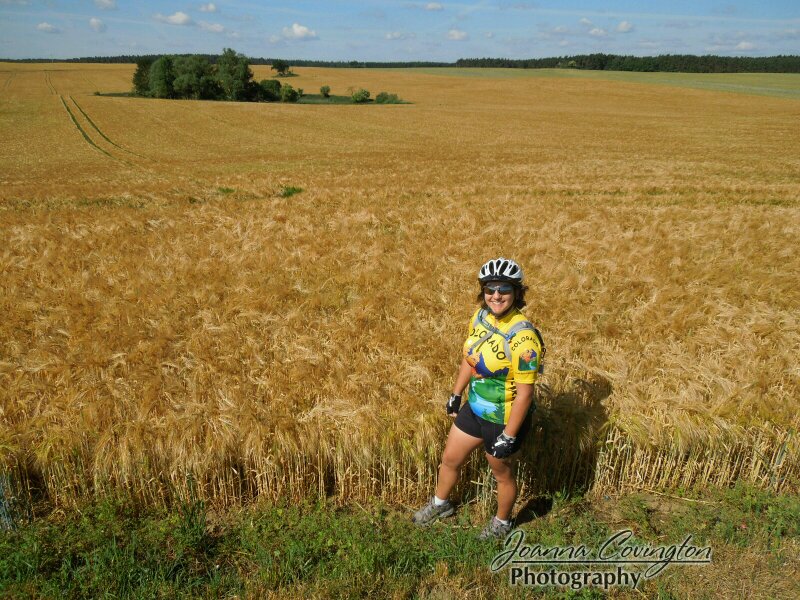 On sunny days like this I find that I take a couple hundred photos in a day and I wish I could post even half of them for you.  =)  I take much less photos on a rainy, cloudy day.  I'm also biking along taking video that one day I hope to put together into a combined video of our Berlin-Copenhagen bike tour much like the Greece one I put together. 
Our cycling was fairly straight forward.  There weren't a lot of stops to make today for sight-seeing.  We did stop in a little town at a ceramics store/cafe to have some Ben & Jerry's ice cream.  We find this ice cream all over the world, and for Mark it's a little taste of home.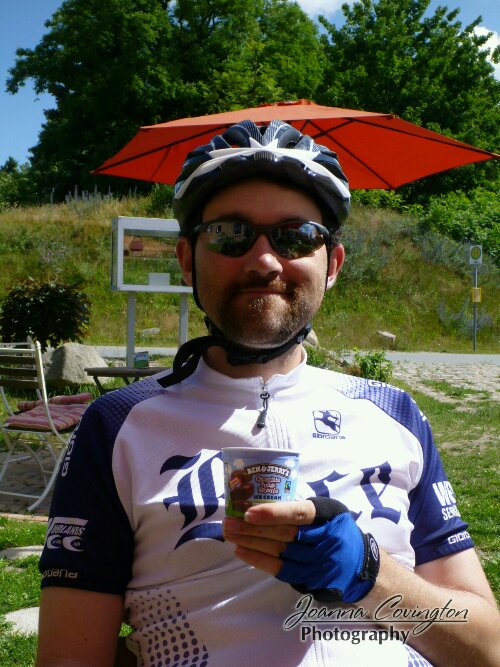 We also cycled past a round, brick tower that reminded us of Ireland: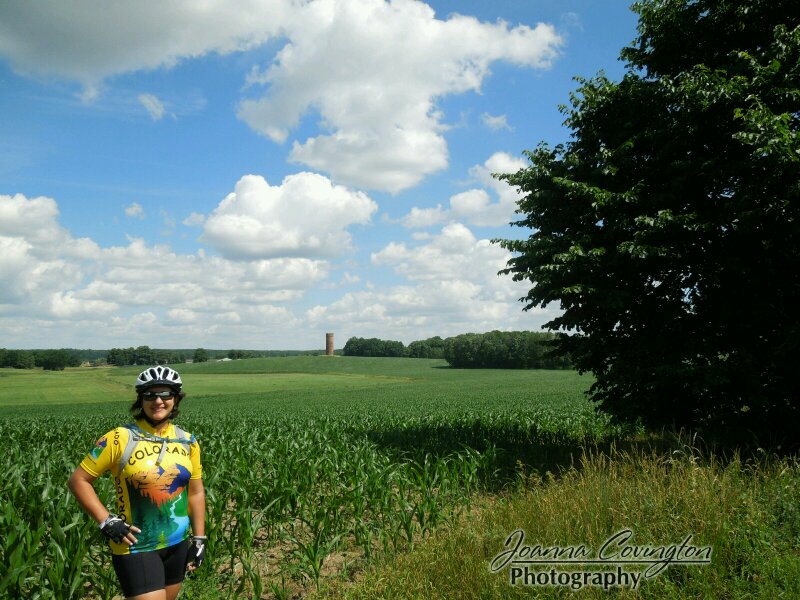 And of course, many horses and miniature horses:
Mostly, though, we just cycled to Güstow arriving in time for lunch.  Our hotel was first, before we hit the town, so we dropped off our bikes and checked into our room.  The luggage hadn't arrived of course, so we took a walk to town to find our lunch and maybe do some sight-seeing.  There is a castle in town with a moat around it that we are hoping to check out.  Castles in Germany are labeled Schloss.  On our walk we bumped into many other of our cycling friends on the same tour as us.  We all helped each other find out that even on a Saturday not much in this town was open.  I think everything shuts down at 2pm on a Saturday.  It was quite inconvenient for us as well since we needed to find an apothecary (pharmacy) for an item or two.  We weren't able to find an open one until Monday.
Lunch was found at a Turkish kebob-shwarma type place and we had what is called a Turkish pizza and really is more of a gyro-like sandwich.  The visitors center was open and we found some postcards, but we didn't end up going into the castle since it was all under renovations.  We had seen some gorgeous pictures of the gardens, but when we showed up, the gardens were all torn up and gone due to construction.  So we just took photos of the outside.
I believe we mostly ended up back at the hotel only to realize that the bags were delivered and one of our pieces was missing!  =P  Boo.  Luckily, the duffel with our clothes and toiletries was there so we could shower and by the time we took care of the chores the luggage had arrived.  It was hard to contact Mecklenburger Radtour since the guy I called only spoke German and we had a lovely conversation where I kept repeating my problem in English and he kept talking to me in German.  I kept asking for Olaf, who spoke English, but apparently he was unavailable.  Eventually I gave up and hung up only to have the German-speaking man call me right back because we were disconnected.  =)  The front desk at our hotel was happy to call and state our problem, though, and our backpack was on a car and would take about 2 hours to get to us.  All was fine in the end.  =)
It was time for us to take a break from sight-seeing and sit in our room watching tv, typing blog posts, and playing games.  We also found that this hotel provided us with free wifi and we spent quite a bit of time sitting on the couch in the lobby catching up with life. 
Tonight's dinner in the hotel was actually the first and only dinner of the entire trip where I was unhappy with the taste of my food.  I've taken to just pointing to a random item on the menu rather than try and translate everything.  The potatoes that came with my meat were gooey and sticky mixed with some kind of additional starch.  I couldn't even poke my fork into the scoop that looked like mashed potatoes.  Luckily we had a big and late lunch and it didn't matter much.