June 21, 2012 (Day 9)  Bike Day 3
Bike from Neustrelitz to Waren
71.4 km or 44.4 miles
Weather:  mostly cloudy, some sun, chilly in the morning, warming up to comfortable in the afternoon
8:30am – 4:30pm
Happy longest day of the year.  Today in Germany, the day was probably about 17.5 hours long or so.  I can't remember the exact stat, and I don't feel like looking it up.  =)  Having daylight until well past 9pm and twilight until nearly 11pm sure does mess with our internal clocks.  We can't figure out what time it is, ever.  Plus, sometimes we wake up at 4am and the light outside makes it feel like 9pm and we think we've overslept.  How can it possibly be only 4am?
This morning we were a little apprehensive about the weather since it was cloudy, chilly, and looked like rain even though my weather forecast told me the day was to be partly sunny.  So, we prepared for rain just in case (meaning we wore sandals) and headed off after a wonderful breakfast at the Hotel Haegert.  It looks like once again the whole hotel was on a bike journey and everyone was out in the courtyard getting their bikes ready for the day by 8am.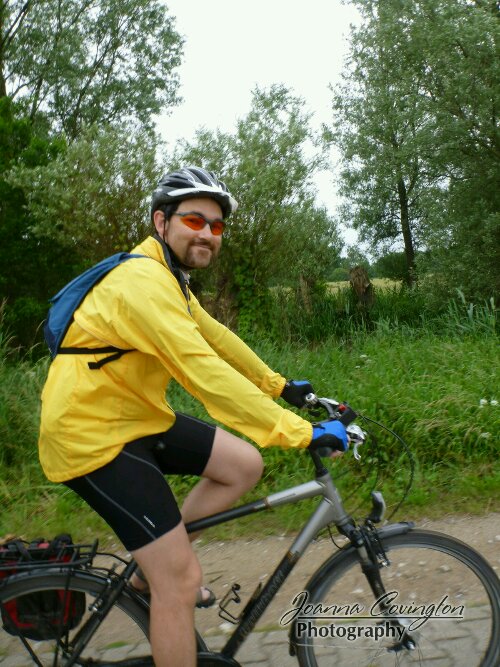 Plenty of people are out here biking without a tour group.  They have enough saddle bags to hold all their belongings and they are just touring around one of the many cycleways of Germany.  The area is full of multi-day bike tours that anyone can take.  We found maps of all the various routes in a local bike store.  We will definitely have to come back and bike the area again. 
We actually got off to an earlier start than normal and headed out, backtracking out of Neutrelitz for a couple kilometers before we went on our way towards Waren.  Most of today's cycling was through the Muritz National Park on dedicated cyclepaths.  The route was gorgeous, lined with trees in the park, and of course some meadows here and there.  For the most part we are on cycle paths, but every now and then we bike along a road with very little traffic.  We might see a car once every half hour or so.  I could get used to this very easily.  It is going to be hard to go back to Houston cycling. 
In the park, we stopped and pulled out at a variety of hiking paths and sometimes went down one or two for a little while.  There were several pullouts with blinds so you could watch the wildlife, but we never saw any of the birds we were supposed to find at the blinds.  We did, however, spot the osprey nest on a power pole far in the distance.  We could just barely see some movement inside the next even.  I wish we had some binoculars, but I wouldn't have liked to carry those all this way just for one spotting.
We stopped at a Glass Museum and cafe for a morning snack in Dalmstorf.  I had an apple cake of some sort and Mark had a strawberry shortcake.  It was delicious of course and afterwards we shopped the glass store to pick up a few little things made right there on site in the shop.  We could see the workers blowing glass through a window and watched for a little while before heading back on our way.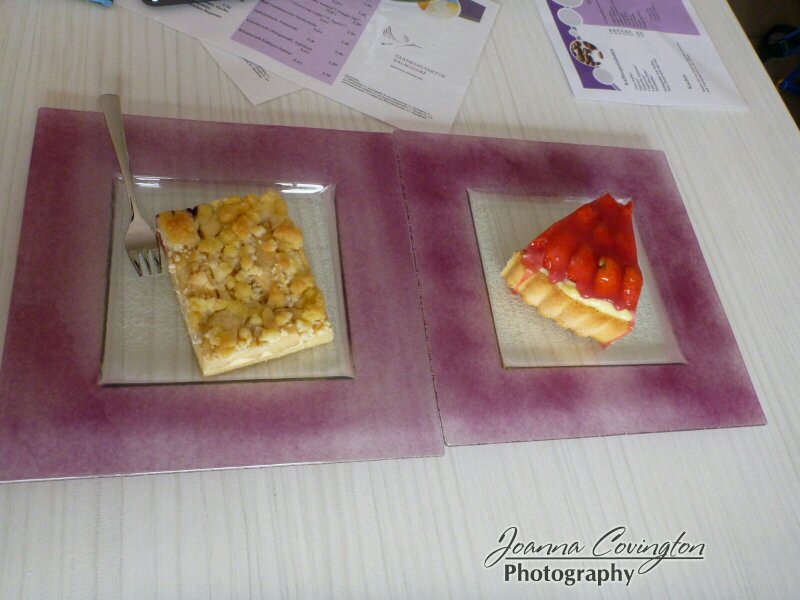 The sun did come out a few times today, all after noon.  We stopped in Ankershagen where the famous Heinrich Schliemann Museum was located.  Henrich was an archaeologist who determined that Homer's Odessey and Illiad were based on actual historic events and the town celebrates that he discovered the ancient city of Troy.   We stopped near the museum, not to go in, but to admire the large Trojan Horse they had built out front.  It was actually a slide as well, so of course I had to climb up and check it out.  We realized we were in the largest small town for the next while, so we went ahead and ate some brotwurst at the cafe there.  We both enjoyed our lunch.  Plus we could see blue skies and sun for our afternoon's ride. 
We took off after lunch leaving the area of the national park for a while to travel along a cycle path that paralleled a road.  It was really quite pretty along here as we biked through fields of wheat, other crops, and wild flowers.  We enjoyed biking on a dedicated cycle path.  As we entered the park again, we found that everyone was out riding their bikes.  We were in an area with lots of local bike trails around the park and the whole world was out for a ride.  We even saw someone towing their dog in a trailer attached to the bike. 
Back in the park, we stopped at a lookout over one of the lakes we'd been biking past and sat in the sun for a while not wanting to leave.  I could have ended our ride right there in the sun.  We were only 5 km away from our final destination in Waren, though, so we biked on out and arrived in the busiest town we've seen since Berlin!  Waren is located between several lakes and is quite the tourist trap.  We were immediately so crowded by pedestrians and other cyclists that we just got off our bikes to walk through the bustle.  This looks like a fun town to shop in and we'll have to come back later tonight.
Now, though, we were itching to get to the hotel and dump the bikes.  After our soaking yesterday, both of our sandals were completely coming apart from the sole and Mark's was flapping around so much he could barely walk without losing his shoe.  Luckily they work fine for biking still.
Our Hotel Am Tiefwarensee is a very nice hotel located on the lake.  It's huge compared to the other hotels we've stayed in so far.  Our room is extremely large with both a queen bed and a single bed as well as a little sitting table.  Unfortunately for Mark, our ceiling is sloped with the roof, so he can't really walk easily in a portion of the room.  I can still access the areas under the sloping roof.  There are some advantages to being shorter.  =)
After our showers, unpacking, and getting ready to hit the town, we walked back to the main area of Waren only to find out that everything closed at 5.  The place was dead, so we just walked around and window-shopped.  We grabbed some ice cream and then some dinner.  We picked our dinner restaurant solely on the fact that they had swinging seats located on rollers so you could rock your way through dinner.  The table was fixed, but the seats on either side of the table were connected below with the rocker and above via a canopy and we could rock back and forth gently.  I could have also fallen asleep here.  =)
The night was getting windy, though, and it was a little chilly eating outside.  I had a dish with pork, bacon, saurkraut and potato pancakes that was delicious.  Mark enjoyed his pork, sausage, potatoes, and chilly-like sauce as well.  It seems as if all the little towns on the bike tour are serving dinner before the normal 7:30pm European dinner time which is good for us.  I wonder if this is because many people coming through the area are hungry and tired cyclists who have no intention of staying up past 10pm at the dinner table. 
The Hotel Am Tiefwarensee is decent enough, but I give it a mixed review.  The shower, though large enough, couldn't keep a constant temperature, so it was either scalding or cold.  The water pressure varied as well, making for a less than pleasant shower.  There is no wi-fi at the hotel again (so far we haven't found wifi on our bike tour), but there does seem to be an ethernet connection in the room.  The room is incredibly nice with plenty of space at least.  The windows open so we can dry our laundry easily in the room, and the bed is comfortable.
Now it is time to sleep.  It is day 9 already and I haven't really posted any blog entries yet.  In Berlin we were too busy to type and now that we are on the bike tour we can't seem to find a wi fi connection.  Luckily we can still get internet, email, and facebook on our pay-as-you go sim cards on the cell phones, so that keeps us connected.